Babu Will Be Left With No Place In History

MLA of Panyam constituency of Kurnool district, Gowru Charitha Reddy exclaimed that Chandrababu would remain in the history with no noble place. After all the false promises and deception, he would be remembered only for his misdeeds, she said. Gadapagadapaku YSR Congress programme was held in Muzafar Nagar on Thursday in her supervision. She mentioned to the media on this occasion about people regretting to have voted for Babu.
In-charge of Banaganapalli, Katasani Ramireddy commented that TDP was functioning with the sole aim of deceiving people. In Chinnarajupalem thanda of Banaganapalli mandal, Gadapagadapaku YSR Congress held under his supervision. Speaking on this occasion, he stated that people were blaming themselves for voting for Chandrababu owing to his long experience in politics, thus willingly accepting his deception.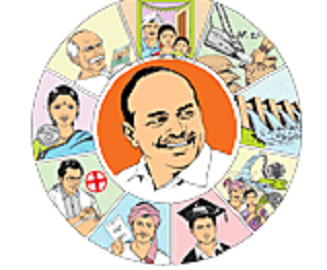 Alla Ramakrishna Reddy, the MLA of Mangalagiri of Guntur district, revealed that people from various classes like the students, the women, the armers, the aged, the business people, the employees and the unemployed, had been giving Chandrababu's administration zero marks. He held Gadapagadapaku YSR Congress programme at Nidamarru village of Mangalagiri mandal on Thursday.
Coordinator of Araku constituency of Visakhapatnam district Aruna Kumari, district's official spokesperson Setty Appalu, along with leaders and activists of the party, went from one doorstep to another in Krinchunanda panchayat of Dumbriguda mandal and learnt people's problems. Karanam Dharmasree, the coordinator of Chodavaram, held the programme at Ankulapalem in Madugula mandal. He slammed Chandrababu for his corruption and deception towards the state.