Let Us Chase Away This Atrocious Rule

Bribe expected for sanction of ration card
Certain Dalits of Kondapi constituency complained to the constituency's in-charge Varikuti Ashok Babu that they were being demanded to offer bribe for sanction of ration cards at Tehsildar's office. As part of Gadapagadapaku YSR Congress programme, he toured in Pakala and Juvvigunta villages. Some of the villagers complained to him that their repeated pleas for the sanction of ration cards had been neglected. Speaking on this occasion, Ashok called for putting an end to the ongoing atrocious rule in the state. He assured the people that their problems would be solved if YS Jagan became the CM.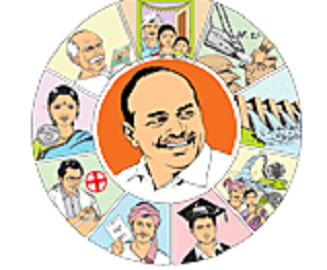 What is this rule, Babu?
YSRCP West MLA Malla Vijay Prasad complained that Chandrababu had bluffed about over-all development of the state to the people. People are giving huge response to the Gadapagadapaku YSR Congress programme held to make them aware of Chandrababu's atrocities as well as TDP's failure. The unemployed who had not yet received their stipend, the poor who had no houses and the women whose DWCRA loans had not been waived and were being harasses by bankers slammed Chandrababu's Government.
Same slogan at every doorstep
YSRCP leaders and activists held Gadapagadapaku YSR Congress programme in Chntalacheruvu and Rachapatnam villages of Kaikaluru mandal. They explained about Babu's deception at every doorstep. Same slogan was heard at every doorstep of Y.Kotthapalli village in P.Gannavaram mandal of East Godavari district. People joined their raised voices to say "Johar YSR" and "Jai Jagan". P.Gannavaram coordinator Kondeti Chittibabu conducted the programme.