YS Rule Is Going To Be Back Soon

People will teach defectors a lesson
Chandrababu is deceptive
Nothing has been done in the three years of rule
Chittoor District (Palamaneru): Municipal chairperson of Palamaneru, Sarada Kumar, mentioned that people were suffering due to Chandrababu's incompetency. She criticised that the poor people were unable to enjoy welfare schemes, in spite of having all the required qualifications. She slammed the defectors of YSRCP for quitting the party defying the trust people had bestowed on them. Sarada Kumar stated that YS rule would soon be back and everybody's problems would be solved. She toured in Palamaneru as part of Gadapagadapaku YSR programme. She mentioned how people were pleading for arrangement of sanction of their pension. Participating in the event were Palamaneru's YSRCP coordinator Reddemma, CV Kumar, Prakash, town convener Mandi Sudhakar and the party's activists.
All the time being spent on Amaravathi
Narsipatnam: Petla Uma Sankar Ganesh mentioned that Gadapagadapaku YSR Congress was being conducted as called for by YSRCP president YS Jagan, filling courage in every heart. He toured in the 14th ward of Pedaboddepalli of Narsipatnam constituency as part of the programme. He mentioned that people were suffering so much under the rule of Chandrababu. He criticised that Babu had been working on Amaravathi all the time and ignoring other areas and people's welfare.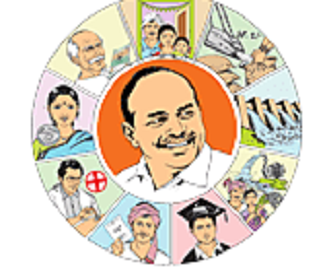 Babu can not be spared from a lesson
Prakasam District: Santhanutalapadu MLA Adimoolapu Suresh held Gadapagadapaku YSR Congress programme at Gundamcharla village of Pedda Dornala mandal and explained to people about Babu's deceptive rule. He handed over Praja Ballot to people for scoring Babu's rule. People, disgusted by the deceptive rule of Chandrababu, slammed him and gave him zero marks. They cautioned Babu would soon have to pay the price for deceiving them with false promises.