Growing Intolerance Towards Babu's Rule

They laid the roads but forgot to install culverts
Rajamahendravaram: Due to not constructing culvert under the first road that led to the village from Bucchaiah Nagar of Pindigoyya, the road got depressed, stated YSRCP Rural constituency's coordinator Akula Veerraju. As part of Gadapagadapaku YSR Congress programme, he toured in Pindigoyya and inquired about people's problems. Then he gave copies of Praja Ballot and collected responses from people.
No development is happening
Nellore: People from Gurralamadugu sangham stated that they had fallen victim to floods and that no development measures had been taken yet, as MLA Dr.P.Anil Kumar Yadav held Gadapagadapaku YSR Congress programme in the 16th division. Speaking on this occasion, he criticised that TDP Government only spoke but did not act. He commented that people had been suffering although Babu's Government had begun 2.5 years back.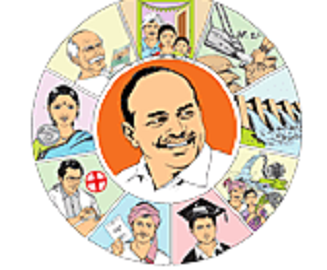 What kind of justice is this?
Adoni: MLA Sai Prasad Reddy commented that intolerance was mounting by the day towards CM Chandrababu who had mortgaged the state's benefits to the centre. As part of Gadapagadapaku YSR Congress programme, he toured in Chinna Pendekal village. People welcomed him warmly. Sai Prasad Reddy spoke on the occasion to complain that Chandrababu's promises had remained without implementation and confided that YS Jagan's rule would chase away all the difficulties of people.