YSRCP Hold Agitations throughout The State

AP: The bandh called for by YSRCP in protest against the deception of TDP and BJP to the people of AP in the matter of sanctioning special status to the state is going on throughout the state. All political parties accept TDP and BJP as well as certain organisations
extended solidarity to the bandh. Dharnas, rasta rokos and protest
rallies are going on in the state. The police interrupted the otherwise
peacefully happening bandh by brutally attacking the leaders and activists. The
leaders were pulled away and arrested. YSRCP has strongly condemned the
behaviour of the government. Here are the details of the bandh held in various
districts of AP.
The police arrested Mangalagiri MLA Alla Ramakrishna Reddy and 9 other party
leaders and moved them to the police station as they were observing the bandh
near RTC bus stand of Mangalagiri. Local youth held a bike rally in the city
asking people for solidarity to the bandh. Ambati Rambabu, the official
spokesman of YSR Congress party, was arrested at Sattenapalli along with 20
activists as they were holding protest. MLA Mustafa, Lella Appireddy and Meruga
Nagarjuna started agitation at the bus stand of Guntur and were arrested by the
police. Party convener of Repalle, Gaddam Radha Krishna Murthy, SC cell's state
general secretary Prasanth Kumar, minority leader Sheikh Subhani and 24 others
were arrested by the police as they were observing bandh at Repalle.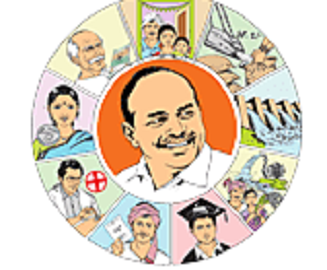 YSR district:
MLA Amzad
Basha, mayor Suresh Babu, Kadpa city's party president Nityananda Reddy and
certain other leaders held Raastha Roko at the RTC bus depot of Kadapa. Both
the gates of the depot were shut and buses were stopped. MP Avinash Reddy held
an agitation at the bus stand of Pulivendula. Buses were hindered by the party
cadre. Devireddy Sankar Reddy participated in the dharna. MLA Korumutla
Srinivasulu led an agitation at Kukkaldoddi of Railway Koduru mandal. Vehicles
stopped on Chennai-Hyderabad highway, leading to a huge traffic jam. MLC Govind
Reddy conducted bandh at Badvel. People's organisations held a dharna at the
local bus stand. MLA Gadikota Srikanth Reddy participated in the bandh at
Rayachoti. A dharna was held in front of the local RTC bus depot. Bandh went on
peacefully at Jammalamadugu. Educational and commercial institutions
voluntarily participated in the bandh. 
Chittoor
District:
Chittoor
district's party president Narayana Swamy, S.K.Babu, Sudarshan Reddy, Imam and
Hari Prasad were arrested by the police as they were observing bandh for
special status. Adimulam, the in-charge of Satyaveedu constituency, held a
raastha roko on the highway at Narayanavanam. Bandh was voluntarily conducted
at Palamaneru constituency. Chandragiri MLA Chevireddy Bhaskar Reddy held a
dharna and was arrested by the police. Bangarupalem MLA Sunil held a dharna.
Two hundred people were arrested along with the MLA. At Srikalahasti, YSRCP
leader Madhumohan held the bandh.
Ananthapuram
District:
Certain
leaders along with former MLA Gurnatha Reddy staging agitation at Ananthapuram
were arrested and taken to the police station. Siddhareddy led the bandh at
Kadiri. At Dharmavaram and Gunthakal, YSRCP coordinator Venkatrami Reddy led
dharna. Throughout Ananthapuram, 150 people were arrested for observing the
bandh. Thousand buses remained in the depots. Puttaparthi constituency's
coordinator Sridhar Reddy supervised the bandh in his constituency.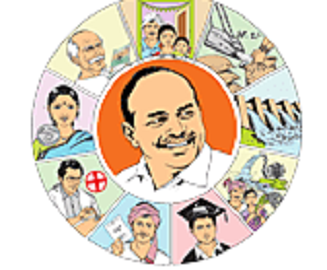 Prakasam
District:
YSRCP
leaderd hindered buses from coming out of RTC depot at Giddaluru. Almost 12
leaders were arrested and taken to the police station. 
Krishna
District:
YSRCP
leaders hindered buses at the RTC bus stand of Vijayawada. Krishna district's
party president and former minister Parthasarathy, Vijayawada's president
Vangaveeti Radha, P.Goutham Reddy and Nagireddy gave away roses to RTC
passengers, the police and RTC personnel and asked for solidarity to the bandh.
There was good response from the RTC passengers for this novel style of
protest. Parthasarathy and certain other leaders were arrested. MLA Meka
Apparao conducted a dharna at the RTC bus depot in Nuzivid, stopping buses from
coming out. Congress, CPI and CPM extended solidarity to the bandh.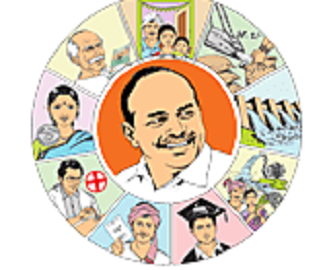 West
Godavari District:
YSRCP's
state secretary Taneti Vanitha and hundreds of activists conducting agitation
at Kovvur's bus depot were arrested by the police.
East
Godavari District:
MLA
Jaggireddy staged dharna at Ravulapalem bus depot along with other leaders.
Agitation was held and buses were hindered from coming out. YSRCP leaders held
agitation in Rampachodavaram led by MLA Vanthala Rajeswari and Udaya Bhaskar. Pithani
Balakrishna and Gutthula Sai led the bandh in Mummidivaram. MLC Pilli Subhash
Chandra Bose led tha bandh in Ramachandrapuram.
Visakhapatnam
District:
Gudiwada Amarnath was arrested by the police as he held agitation at the
RTC depot in Maddilapalem. YSRCP leaders held a bike rally at Thatichetlapalem
collecting solidarity for the bandh. At Chodavaram, Dharmasree led the bandh.
At Anakapalli, Janaki Ramaraju held agitation. Paderu MLA Giddi Eshwari led the
YSRCP cadre in the bandh. Almost 850 buses were stopped from serving.
Vizianagaram
District:
Party in-charge and MLA Veerabhadra Swamy held agitation at the RTC
complex in Vizianagaram. He was taken into custody by the police. At Kurupam,
MLA Pushpa Srivani led the agitation demanding special status.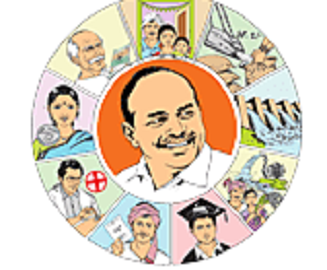 Srikakulam
District:
YSRCP leaders held raastha roko in Pathapatnam. Then party leader
Tammineni Sitaram, along with certain other leaders, was arrested by the
police. A dharna was led by Palakonda MLA Viswasarai kalavathi. The MLA along
with certain activists was arrested. In Icchapuram, former MLA Sai Raj led
bandh supported by business institutions. YSRCP leaders and activists
throughout the district were arrested in thousands and 1050 buses were stopped.
Nellore
District:
MLA
Kotamreddy Sridhar Reddy in Nellore Rural constituency and MLA Sanjeevaiah in
Sullurupeta, staged dharnas. District party president Kakani Govardhan Reddy
led YSRCP leaders in the dharns staged at RTC bus stand. Seven hundred buses
were stopped. Meruga Muralidhar and Gopal Reddy held dharna peacefully at
Guduru.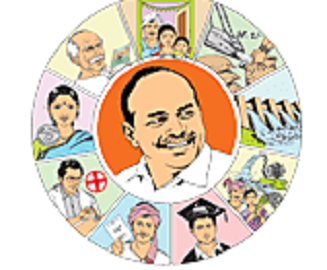 Kurnool
District:
Adoni MLA
Sai ratap Reddy led the bandh supported by voluntary participation of certain
business and commercial groups. At Nandikotkuru, MLA Aijayya led the agitation.
YSRCP leader Cherukupati Narayana Reddy staged a dharna at Pratthikonda.