YS Jagan's Rule Will Be Prosperity To People's Lives

YSR's golden rule is possible only through YS Jagan
Bobbili: YSRCP's coordinator of Bobbili constituency, Dr.Pola Ajay, opined that YSR's golden rule would be back if YS Jagan became the CM of the state. He held Gadapagadapaku YSR Congress programme at Gajarayunivalasa village and called for offering victory to YS Jagan in order for their problems to be solved. Calling Babu's a demonic rule and YS Jagan's a Godly rule, he called for people's support for the golden days to come.
Gone are the days of bluffing
Visakhapatnam West: YSRCP's coordinator of Visakhapatnam West constituency, Malla Vijay Prasad cautioned Chandrababu that it was time people questioned his deception. He held Gadapagadapaku YSR Congress programme at the 42nd ward and inquired about people's problems. He gave copies of Praja Ballot, the satisfaction survey to people and gathered the score granted by them to Babu's administration.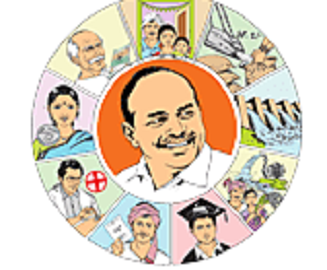 Chandrababu is culprit in people's court
Gajulapalle (Mahanandi): Chandrababu was a culprit in people's court for deceiving people with impossible promises, commented YSRCP's in-charge of Srisailam constituency, Budda Seshareddy. As part of Gadapagadapaku YSR Congress programme conducted at the SC colony of Gajulapalle, he called for teaching Chandrababu a lesson for bluffing about waiving agricultural and DWCRA loans and providing jobs. He remarked that Chandrababu's Government had miserably failed in putting its words to action.