People At Agony Under TDP's Rule

Promises were long forgotten
Corruption given utmost importance
People condemn Chandrababu's rule
Gadapagadapaku YSR Congress, the prestigious programme initiated by YSRCP, is going on successfully. People at every doorstep are sharing with YSRCP leaders their agony. They are regretting voting for Chandrababu after facing his deception. They are cautioning Chandrababu's Government about having to face consequences of its deception.
In-charge of Nandyala constituency of Kurnool district, Rajagopal Reddy, held the programme at Venkateswarapuram and Udumalapuram villages. Done MLA Buggana Rajendranath Reddy participated in the Gadapagadapaku YSR Congress programme held in his constituency. Adoni MLA Sai Prasad Reddy toured in Papilipatnam. In the presence of Kodumuru constituency's in-charge Murali Krishna, the programme was conducted in Ambedkar Nagar. Patthikonda constituency's in-charge Narayana Reddy held the programme in Chityala of Krishnagiri mandal. All the leaders went from one house to another explaining about Chandrababu's deceptive ways and inquiring about their well-being under TDP rule.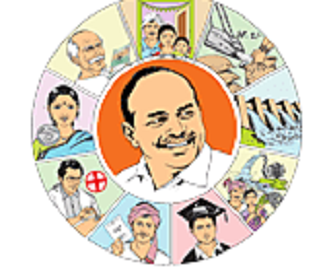 In Ippaguntla village of Ponnaluru mandal in Prakasam district, in-charge of Kondepi constituency, Ashok, held Gadapagadapaku YSR Congress programme. He assured support of YSRCP to the people who had faced the blow of TDP's deception. He called for fight against Babu's Government for its not keeping its promises. He assured that even in case of TDP's negligence, YSRCP would form the Government after the next elections and would take care of all their problems.