Babu's Rule Is Almost Up

Gambler yellow leaders
Kurnool (Banaganapalle): Former MLA Katasani Ramireddy held Gadapagadapaku YSR Congress programme at Tummalapenta village of Kolimigundla mandal. People complained to him how they had been suffering from problems like lack of drinking water and toilets.Women reported that their loans had not been waived. Ramireddy promised on behalf of the party that their problems would be solved if YSRCP came to power. He slammed the local MLA BC Jananrdan Reddy for making more promises than Chandrababu and forgetting all about them after coming to power. He ridiculed that TDP leaders changed their party office into a gambling club after the club in that mandal had been shut down. He also questioned how TDP leaders could employ workers coming from other states in the adjacent cement industry while showing empty hand to local people.
Problems revealed
Nandyala: YSRCP's assembly constituency in-charge Rajagopal Reddy stated that it was time people taught a lesson to Chandrababu's rule. Gadapagadapaku YSR Congress programme received huge response at villages like Chebrolu. Villagers revealed to Rajagopal Reddy about the damaged state of main road leading to the village, overflowing drainage system at the time of rainfall, leading to transmission of diseases.Speaking on this occasion, Rajagopal Reddy assured that he would bring pressure on MLAs for solution of these problems. Hundred leaders and activists from TDP joined YSRCP at CSI church of Chebrolu in the presence of Rajagopal Reddy.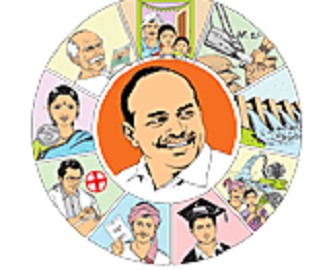 He will be remembered for his deception
Srisailam: CM Chandrababu who had ignored promises made to people would be remembered in the history for his deception, remarked Srisailam constituency's in-charge Budda Seshareddy. He held Gadapagadapaku YSR Congress programme at Khalla street in the city. Speaking on this occasion, Seshareddy slammed Chandrababu for going after special package rather than fighting for the state's development through special category status.