A Great Touch Of Affection

Pulivendula:
Leader of opposition and YSRCP president YS Jagan's tour in his constituency
Pulivendula is going on successfully. A huge number of leaders, activists and
followers of YSRCP are taking part in this.

On Tuesday morning, YS Jagan paid tribute to Dr.BR Ambedkar by decorating his
statue with a flower garland. Then he attended the birth anniversary celebrations
of Babu Jagjivan Ram at Vempalli as the chief guest.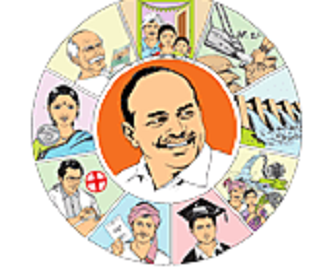 YS Jagan decorated his
portrait with a flower garland and spoke in acclaim of Babuji. Later he got
services performed at the local Venkateswara Swamy temple.
He then reached Erripalem village. He visited the family of a recently demised
activist of YSRCP and expressed his condolences to them. A great number of
people are enthusiastically taking part in YS Jagan's tour. Leaders and
activists affectionately gathered around him at Erripalem. YS Jagan greeted
each of them with love.