Bandh Success; Fight Will Continue




Thanks to everyone who participated in the bandh




It is unfortunate that there no change yet in Chandrababu




We shall continue to fight
Hyderabad, Aug 2: Terming as overwhelming, the response to the bandh demanding Special Status to the state, Leader of Opposition YS Jagan has said that the fight will continue till the goal is achieved and lambasted the Chief Minister for trying to foil the bandh.
'The response was huge despite the efforts of the State government to foil it and we will continue the fight relentlessly till special status is achieved. It is not just against the Centre that we are fighting but unfortunately we have been fighting against the TDP government as well which has been trying to foil the bandh and Chandrababu Naidu who has been watering down the issue,' he told reporters here on Tuesday.
While our MPs in the parliament were vociferous in expressing the protest, TDP members were indifferent and fell silent after the minister said that he has talked to Chief Minister and a solution is being worked. The two ministers in the cabinet did not express any protest. When the bandh in state is for special status why should Chandrababu Naidu misuse police force which has shown its ugly face by arrests and lathi-charge and not a single TDP member had participated in the bandh which shows the Chief Minister's intention.
The overwhelming response to the bandh in which CPI, CPM other political parties, student organizations, trade union, social and women organizations took part reflected the mood of the people and special status is our right for which we have to fight and we will fight it out without giving in to Chandrababu Naidu and his antics, he said.
For the past two years we have raised the issue at various forums and held dharnas and agitation programmes and in October ahead of the Prime Minister Narender Modi's visit to the state for laying foundation stone to the capital city, I went on indefinite fast that was foiled by the police.
Chandrababu Naidu failed to broach the issue with the Prime Minister then and was always telling that special status is not a wonder drug which solves all the problems. When our Party gained the upper hand in voicing the concern of the people, he resorted to theatrics with his party MPs showing meek protests in the parliament while in the state Chandrababu Naidutrying to put down the bandh with an iron hand using force and beating up those demanding special status.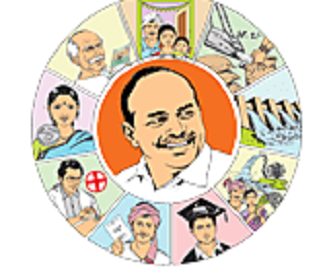 Earlier we have met the Prime Minister and other leaders on the issue and now we sought the appointment of the President and Prime Minister to represent the issue. On August 4 there would be Yuva Bheri at Nellore and other programmes would be chalked out,  he said and thanking all the organsations and general public for making the bandh a huge success.