People Bless YSRCP During Gadapagadapaku programme

Aijayya, MLA of Nandikotkuru constituency of Kurnool district, held Gadapagadapaku YSR Congress programme at Lakshmipuram village of Pagidyala mandal. Jaganmohan Reddy, in-charge of Emminaguru constituency, toured in certain colonies of Gonegonda. In-charge of Kurnool, Hafiz Khan, held the programme at the 2nd ward. The leaders inquired about the well-being of people on this occasion and explained to them about Chandrababu's deceptive ways. They called for the people to teach Babu a lesson in the next elections, for making impossible promises to them.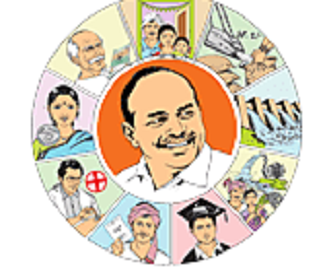 YSRCP SC cell's state president, Meruga Nagarjuna, held Gadapagadapaku YSR Congress programme at Vemuru constituency of Guntur district. Speaking on this occasion, he stated that people laid great trust on YSRCP president YS Jagan. He mentioned how people were regretting to have voted for Chandrababu in the last elections. Waiver of DWCRA loans, construction of good houses and provision of jobs, all the promises had been forgotten,  much to the fury of the people, he remarked. Nagarjuna assured that YS Jagan was on the side of people and would bring YSR's golden rule once he became the CM of the state.