Let's Fight Till We Get The Promises Realised

YSRCP cadre is touring
in all villages of the state as part of Gadapagadapaku YSR Congress programme,
staying supportive of people deceived by TDP rule. They are learning about people's
difficulties, while being warmly received by the people at every doorstep.
People are regretting to
have voted for Chandrababu. With their loans not being waived and jobs or
stipend or pension not reaching them as promised by the CM at the time of
elections, people are being agonized. They are recollecting how nice YSR's rule
was. They are under the belief that their problems will be solved if YS becomes
the CM.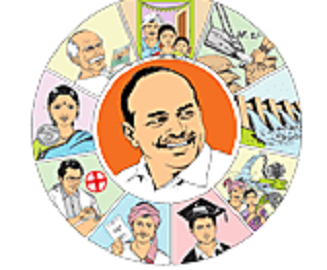 Coordinator of Bapatla
parliamentary constituency Varikuti Amruthapani participated in Gadapagadapaku
YSR Congress programme held at ITI colony of Desaipeta panchayat of Vetapalem
mandal in Prakasam district. Amruthapani assured people that YS Jagan would
soon relieve them from Babu's tyrannical rule.
On the other hand, Yadam
Balaki participated in the Gadapagadapaku YSR Congress programme held at
Desaipeta panchayat, Lohiyapuram and Danthampeta. He assured on behalf of YSRCP
that the party would fight against the Government on behalf of people.