JCs Deprived Us Of Our Food

Narasannapeta (Polaki):
People of Pallipeta panchayat stated that they had been deceived by Chandrababu's poll promises, to YSRCP's state BC cell president Dharmana Krishna Das, during the Gadapagadapaku YSR Congress programme he conducted in their village. he held the programme in Pallipeta, BC colony and Chitapanapeta villages. He explained anti-Government ways to the people. Speaking on this occasion, he expressed concern about the delay in sanction of houses for the poor.
Icchapuram Rural: Villagers of  Koligam expressed their agony to YSRCP's constituency coordinator Nartu Ramarao, as he conducted Gadapagadapaku YSR Congress programme in their village. They stated to him that the Government had deprived them of food by cancelling the pension sanctioned by former CM Dr.YS Rajasekhar Reddy. Complaining that Janmabhoomi Committees' intervention had caused the cancellation, they offered a poor score to Chandrababu in the satisfaction survey, Praja ballot.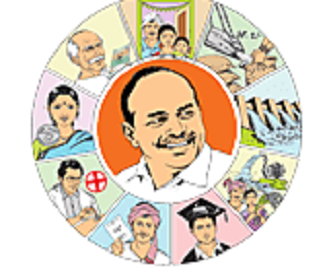 Sullurupeta (Doravarisatram): People of Kalluru village complained to MLA Kiliveti Sanjeevaiah that the ruling party leaders were getting the maximum benefit as and when any scheme was introduced by the Government and depriving the truly qualified people of the benefit. As he held Gadapagadapaku YSR Congress programme in the village along with YSRCP's state general secretary Duvvuru Balachandareddy, people reported to them that they had been suffering due to drinking water scarcity. The leaders distributed copies of Praja Ballot at every doorstep and collected the score offered by the people to Chandrababu's rule.