Fury Towards Corrupt Government

Promises forgotten
Narsipatnam: Villagers of PP Agraharam complained against Babu's negligence in keeping his poll promises. In the village in Makavarapalem mandal, Gadapagadapaku YSR Congress programme was held, garnering tremendous response from people. YSRCP convener Petla Uma Sankar Ganesh went from one doorstep to another, inquiring about people's problems and explaining to them about the Government's failure. Leaders and activists of the party participated in the event.
People angry at Babu's rule
Banaganapalle: YSRCP in-charge and former MLA, Katasani Ramireddy, criticised CM Chandrababu for deceiving people with fake promises.Gadapagadapaku YSR Congress was held at Vasanthapuram, Bondaladinne and Sanjamala villages. Ramireddy went from one doorstep to another and asked people to score Chandrababu's rule in Praja Ballot survey about the situation of welfare schemes and poll promises in Chandrababu's rule. People expressed sheer disgust towards Chandrababu's rule.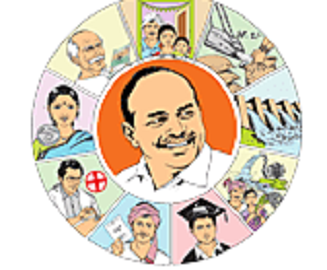 Robbery of public money
Narsannapet: Former MLA and YSRCP BC wing's state president, Dharmana Krishna Das complained that Chandrababu's Government was immersed in corruption and hence was looting people of their money. Gadapagadapaku YSR Congress programme was held at Tamarapalli. Women of the village complained on this occasion that their DWCRA loans had not been waived and they were deceived.