Fake Promises Deceived Us

Loan waiver is a hallucination
Yalamanchili: Residents of Dopperla village of Achyutapuram mandal stated to the coordinator of Yalamanchili constituency, Pragada Nageswara Rao, that waiver of loans had remained a dream for them. As part of Gadapagadapaku YSR Congress programme, he toured in the village and collected responses for Praja Ballot questionnaire. People, particularly women, declared that they could only offer zero marks to Babu.
We were betrayed by Babu
Mandapeta: As part of Gadapagadapaku YSR Congress programme, Vegulla Leela Krishna, the coordinator of Mandapeta constituency, toured in Tapeswaram village. Speaking on this occasion, he mentioned that the people at every doorstep had reported to him sadly how they had been deceived by voting for Chandrababu. Venkanna Babu, Kesavaram MPTC Tupakula Prasanna Kumar, Kesavaram Vidya Committee chairman Manamarthi Yesu Raju, Abbulu, Satthibabu, Srimannarayana, Karuna and other leaders and activists of YSRCP partciipated in the programme.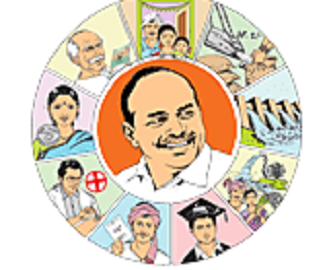 Rudeness towards labourers
Narasannapeta: After TDP had come to power in AP, it had been behaving rudely with labourers and suppressing their rights, commented former MLA and YSRCP BC wing's president Dharmana Krishna Das. As part of Gadapagadapaku YSR Congress, he toured in Peddapeta area. Leaders and activists of YSRCP participated in the programme.