Chandrababu Loses The Praja Ballot

Babu did absolutely nothing
Resistance is greatly seen in people against Chandrababu's Government. Loans have not been waived. Pension has not been sanctioned. Lands are being snatched. This is what Chandrababu has done to them, people are exclaiming. Uma Sankar Ganesh went from one doorstep to another as part of Gadapagadapaku YSR Congress programme at Konkasingi panchayat of Golugonda mandal in Narsipatnam constituency of Visakhapatnam. After giving out handouts of Praja Ballot to people and getting their responses, he mentioned that Chandrababu had miserably failed in it,
Deception with false promises
YSRCP state secretary John Wesley stated that Chandrababu had done nothing after getting into power with his false promises. Kola Guruvulu held Gadapagadapaku YSR Congress programme at the AVN college area in the 23rd ward of Visakhapatnam South constituency. He went from one house to another and uncovered Chandrababu's deception. The city's women's wing president Usha Kiran and the city's minority cell president Shariff took part in the event.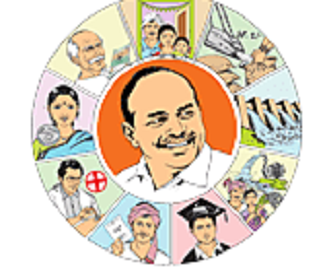 YSRCP by the side of people
MLA Kakani Govardhan Reddy conducted Gadapagadapaku YSR Congress programme in Dammayyapalem and Duvvuruvaripalem of Mutthukuru mandal and mentioned that there had been huge response from the people. He stated that people were frustrated by and disapproving of Chandrababu's rule.