Babu Earns Zero Marks In Praja Ballot

YSRCP's state general secretary Nallapureddy Prasanna Kumar Reddy held Gadapagadapaku YSR Congress programme at Kadavaluru of Kovvur mandal. He went to every house and inquired about the extent of success of Chandrababu's Government in keeping promises. He gave them handout of Praja Ballot and asked them to respond to the questionnaire.
People slammed TDP for deceiving them with false promises. They stated that YS Jagan was the leader who had always been by their side and mentioned their belief that their difficulties would be solved if he became the CM. They gave zero marks to Chandrababu in the Praja Ballot.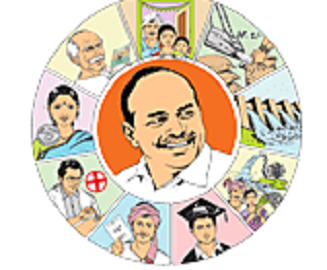 Kurnool: Jaganmohan Reddy, the in-charge of Emmiganuru of Krnool district, participated in Gadapagadapaku programme at Gonegandla city. Party president of Srikakulam district, Reddy Santhi toured in Pathapatnam constituency. She learnt people's problems and called for the people to fight against the Government for not keeping its promises. She also assured them by saying that in case pf TDP's failure to keep the promises, the next Government would be YSRCP's and then their problems would be solved.