YS Jagan's Birthday Celebrated With Pomp

YS Jagan's birthday celebrations held in a simple manner
Service activities held by YSRCP in Telugu states
Blood donation camps held at a large scale
Clothes distributed to the poor
Milk and bread given away to patients
Voluntary food donation camps held
Celebrations at YSRCP's central office
Hyderabad:
The leader of opposition in AP and YSRCP president, YS Jagan's birthday celebrations was celebrated today throughout Telugu-speaking states. YS Jagan celebrated his birthday among his family members at his residence in Hyderabad. MP Vijaya Sai Reddy organised celebrations at the party's central office. Woman party leaders RK Roja, Giddi Eshwari, Lakshmi Parvathi, Vasireddy Padma and senior leaders Ummareddy Venkateswarlu and official spokesman Parthasarathy participated in the celebrations and wished YS Jagan. A 44-KG cake was cut. Later, with coordination from Puttha Pratap Reddy, 1000 sarees were distributed to women. A huge blood donation camp was held, in which youngsters donated blood voluntarily.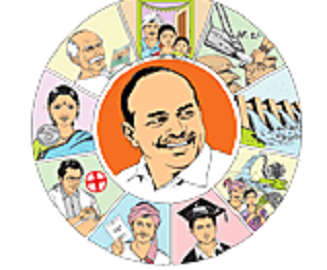 Kadapa:
At YSRCP's office in Kadapa, 
party MLAs Raghurami Reddy, Ravindranath Reddy, Srikanth Reddy, Amzad Basha, district party president Amarnath Reddy and party leaders cut a cake to celebrate YS Jagan's birthday. Rayachoti MLA Srikanth Reddy supervised distribution of tools to physically-challenged. Hanmantha Reddy distributed bread to patients. At Porumamilla, MLC Govinda Reddy held blood donation camp. In the presence of party in-charge Venkata Subbaiah at Badvel, held YS Jagan's birthday celebrations grandly.
After decorating YSR's statue with flower garlands and paying tribute to him, a cake was cut and sweets were distributed. In the presence of Kamalamma, at Jesus orphanage in Pulivendula, YS Jagan's birthday was celebrated. Celebrations were held in the city by YS Bhaskar Reddy. Rukmini Devi distributed fruits in BC hostel. At Kamalapuram, MLA Ravindranath Reddy held blood donation camps. 
A 44-KG cake was cut at Railway Koduru by Sukumar Reddy
.
Ananthapuram: YS Jagan's birthday was celebrated in the district grandly. District president Sankar Narayana, MLA Visweswar Reddy, former MP Venkatrami Reddy, former MLA Gurnatha Reddy and others celebrated the birthday. Student wing leaders Aluru Sambasiva Reddy organised blood donation camps. State secretary Mohan Reddy and Ramesh Reddy distributed clothes to the poor.
Chittoor: The party's state secretary Reddyvari Chakrapani Reddy organised special poojas in Venkateswara temple at Nindra sugar factory in Tirupati. Bread and milk were distributed to patients in hospitals. Student wing leader Hari Prasad Reddy held food donation at Srivari Padala mandapam in Alipiri. Celebrations were also held at Tekulapalli.
Celebrations were also held by leaders, activists and followers of YSRCP in Kurnool, Vizianagaram, Srikakulam, Visakhapatnam, East Godavari, West Godavari, Guntur, Prakasam, Nellore and Krishna districts.
Telangana: 
On occasion of YSRCP president YS Jagan's birthday, celebrations were held throughout Telangana state. Service activities were organised. At Sai Baba temple of Dilsukhnagar, party general secretary Konda Raghava Reddy held special pujas for YS Jagan. Later he distributed clothes to the poor. Party leader Vellala Rammohan held a huge bike rally from Sanatnagar to the party's central office at Lotus Pond.
Party leaders held blood donation and health camps at various places. Milk and fruits were distributed in hospitals. Kirtana Foundation held cake cutting at Hastinapuram. Sarees, bedsheets and mixies were distributed to women.
Party president of Karimnagar district, Dr. Nagesh, held cake cutting and distributed it among party activists and followers. YSRCP youth wing leader Jalli Venu organised special poojas at Mallanna temple in Komaravelli of Siddipet district. Sweets were distributed to the aged. Party leader Santhi Kumar cut a cake the Town Church in Warangal. YSRCP district president Acchireddy held celebrations at Mehboobnagar area hospital. Milk and bread were given away to patients. TYSRCP state secretary Rajesh distributed sweets in Kasturba Gandhi school. Challa Srinivas Reddy decorated YSR's statue in Madhira with flower garlands and paid homage to him. Then a cake was cut for YS Jagan's birthday.
Lakkineni Sudheer, in Khammam, distributed fruits. Kollu Venkata Reddy, in Bhadrachalam, held food donation programme for orphans. YSRCP leaders donated food in Anthol. YSRCP leader Maddirala Vishnuvardhan Reddy held cake cutting in Vanaparthi. District party president Bhagat Reddy held distribution of fruits at Nagar Kurnool. Party leader Karunakar Reddy celebrated YS Jagan's birthday grandly in Nalgonda district.  State secretary Salim and in-charge Brahmam held service activities at Miryalaguda.