We will not give up land, say farmers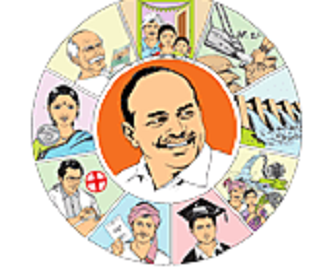 Borupalem
(Guntur dist), Nov 17: Expressing apprehensions and strong resentment over TDP
land acquisition policy, locals have said that they cannot trust Chief Minister
N Chandrababu Naidu who went back on his poll promise of waiver of loans and
they are not prepared to give up their land in lieu of the benefits being
promised.
"We have
already tasted the Chief Minister's failure in keeping up promises and if we
give our small land holding believing the promise of the State we will be at a
loss for livelihood," farmers of this and the surrounding villages which fall
under Talluru mandal told a visiting delegation of YSR Congress Farmers' Rights
Protection committee during its tour here on Monday.

We are
not prepared to part the fertile land at any cost, they told the members
categorically. Though we are not against the capital city coming up in this
place, where is the need to acquire such a large extent of land for the
capital, they questioned.

If the land
is given for development, the builder pay goodwill and a share in the
infrastructure, but here the State is trying to acquire land without paying any
money and we are against it as the larger game plan appears to benefit the
realtors and the proposal of giving small measure of developed land for one
acre of fertile land at a later date is sheer exploitation, they said adding
that they will be losing their livelihood if they give away the land.

"They are
prepared to give up lands but the compensation should be more like Rs 1.5 lakhs
per year and 1,500 yards of developed area for their one acre of land.
Farmhands should be paid Rs Rs 5,000 per month as compensation," a farmhand
Veera Raghavulu has said.

A farmer
Alla Purna demanded that their loans should be waived in full and the gold
mortgaged should be cleared. Tiruamal Seshagiri Rao said that it is not fair on
part of the State to take land first and provide compensation later.

Dasari
Koteswara Rao said that he has invested about 1.5 lakh per year on an acre of
lemon grove for seven years and if the State wants to take away the land it is
a heinous act. Another farmer Venkateswara Rao said that taking the land away
means to separating child and from the parents.

Speaking
on the occasion senior leader of the delegation Ummareddy Venkateswarlu said:
"The legal sanctity of the acquisition is not known but the TDP leaders are
coming to the villages and threatening the locals to give up their land. In a
democracy, Ruling Party and Opposition Party have their respective roles to
play in the development process.

Chandrababu
Naidu did not fulfill a single poll promise even six months after he assumed
office. Instead of visiting Singapore, it would have been better if he studied
the Indian conditions for capital formation. Our leader YS Jagan Mohan Reddy is
not against the capital city coming up between Guntur and Vijayawada and he
made this clear in the Assembly itself. His
contention was the availability of 30,000 acres of government land and this
should be the main consideration, "he said.

The
delegation included: Convenor Dharmana Prasada Rao, former minister K Prasada
Rao, Ambati Rambabu, Marri Rajasekhar besides MLAs Kodali Nani, G Ravi Kumar, U
Kalpana, Alla Ramakrishna Reddy, Musthafa, Farmers' Cell Convenor MV S Nagi
Reddy, SC ST Cell State President M Nagarjuna, Christina and others.