Paintings of YSR, Jagan steal your looks!

Srikalahasti, Jan 2,
2013: A series of wall paintings depicting YSR and his family members, drawn by
a famous Chennai artist, have become focal points of attraction for onlookers
on the Srikalahasti –Tirupati Road in Chittor district.

The paintings, drawn exquisitely
over a period of two months, highlight various moments of Dr.YSR, the birth of
YSR Congress Party, party President Sri Y.S.Jagan Mohan Reddy's Yatras, agitations
and Deekshas he undertook on various public issues and also the Maro Praja
Prasthanam Padayatra of Smt. Y.S.Sharmila, will steal your looks if you are on
your way to Tirupati from Sri Kalahasthi.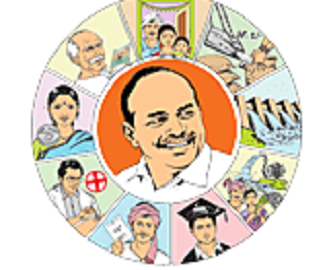 The wall paintings, made at the instance of local party
leader Biyyapu Madhusudana Reddy, were drawn on a lengthy and spacious wall
encompassing a factory premises in the industrial estate situated on the road
connecting the two temple towns.
People driving on the road and RTC bus commuters are
making it a point to stop and take a look at the stunning and lively paintings.