Jagan slams Cong., TDP for divisive politics

Pathikonda (Chittoor
district), December 27: Continuing his tirade against the Congress and TDP
leadership, YS Jagan  Mohan Reddy has said they are playing divisive and dangerous
politics with the singular motive of gaining votes and seats unmindful of the
hardships people of the region would face should the State be divided.
"We have to stay united and
reject outright the proposals of Sonia Gandhi to divide the State and the moves
of Chief Minister N Kiran Kumar Reddy and TDP President N Chandrababu Naidu in
helping her in the process besides thwarting their dubious designs," he said
while addressing a large gathering here on Friday.
Resuming his Samaikya Sankharavam,
in the home district of Kiran Kumar Reddy and N Chandrababu Naidu, he appealed
to the people to question the two leaders when they come here as to where will
the farmers get water from if the State is divided and where will the youth
look for jobs if Hyderabad is torn apart from this region.
"This is fight between
Telugu self-pride and Delhi arrogance and we should teach the treacherous
leaders of Congress and TDP and fitting lesson by winning 30 MPs seats in the
elections, which are very close at hand. Then we shall see who will divide the
State," he said amidst a big round of applause from the audience.
Chandrababu Naidu, who
meets the President, does not speak of Samaikyandhra nor does he give a letter
supporting a united state. He even does not utter the word of Samaikyandhra and
continues his dual theory with utmost absurdity.
Kiran Kumar Reddy, who is
also son of the soil, does not lag behind in the deception drama. He tries to
wear the garb of an integrationist but has been helping the high command in all
respects to expedite the division process, he said.
They have only short term
and petty goals before them and are helping Delhi to bifurcate the State. The
water issue has a larger consequence and the State will turn into a desert if
it is divided. They are not concerned about it or the welfare of people but are
looking for a few votes and seats and they should be thought a fitting lesson. We
have to stand for value based politics unlike Congress and TDP that are
prepared to stoop to any level for petty gains.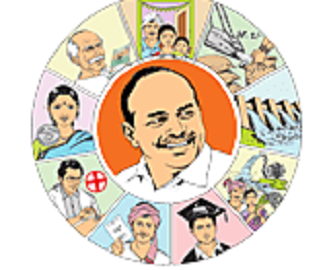 YS Jagan Mohan Reddy, who
has undertaken the State-wide Samaikya Sankharavam yatra from Kuppam to
Srikakulam with the slogan of a united state, said that Chittoor district which
has a population of 45 lakhs will echo the slogan of Samaikyandhra in toto.
"Unfortunately natives of
the land Kiran Kumar Reddy and N Chandrababu Naidu are unable to hear that and
understand the feelings of the locals. It is not to their concern and when
elections come you have to pay back with equal measure give the mandate to
YSRCP which is for Samaikayndhra," he said.
Playing to the gallery, he
asked pointed questions to the gathering whether they agree for division of the
state and the public replied in unison as "no" with matching gestures.  As per his schedule, he is to tour various
places in Palamaneru Assembly constituency and unveil YSR statues at two
places.