Time Being Passed With False Promises

Fury towards Babu's rule
Gadapagadapaku YSR Congress programme is going  on successfully. Pragada Nageswara rao, the convener of Yalamanchili constituency of Visakhapatnam district, toured in Mulakapalli village as part of the programme and learnt people's problems. He collected responses from people for the 100-point questionnaire regarding their satisfaction towards Babu's rule. People expressed severe discontent towards Chandrabbau's rule and slammed his deception. On the other hand, Nandikotkuru MLA Aijayya held Gadapagadapaku YSR Congress at Pagidyala of Kurnool district and explained Babu's deception to people.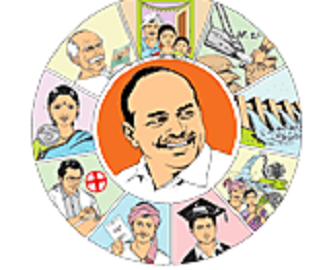 Partiality against YSRCP corporators' division
In Pullamma Satram and Kusuma Harijana Vada areas of the 9th division of Nellore, division corporator Rajasekhar, deputy mayor Dwarakanath and MLA Anil Kumar Yadav held Gadapagadapaku YSR Congress programme. In spite of sanction of Rs.42 crore of funds for SC-ST sub-plan, the mayor had not been calling for tenders and giving away the jobs to the same contractor to pocket commission, they complained. They slammed the partiality shown by the mayor against YSRCP corporatirs' divisions. They also criticised how the mayor had announced that he would adopt the 9th division but never bothered about it later. They suggested that the division was develoed at least now with an expenditure of Rs.1.5 crore.
When will our houses be built?
Nellore Rural MLA Kotamreddy Sridhar Reddy toured in Rajiv Gandhi Colony, Anam Venkat Reddy Nagar and Sarvepalli canal area of 18th and 19th divisions. He remarked that Chandrababu had promised to build a house with Rs.1.5 lakh for every poor man but had not built a single house in the past 2.5 years. He also mentioned how the residents of houses built previously are finding trouble in paying debts due to lack of bills. He suggested that Babu kept his promises at least now. He demanded construction of good quality houses to all the qualified poor.