Publicity At The Cost Of Public Welfare

We are losing our jobs
Srisailam (Gajulapalle): YSRCP's in-charge of Srisailam constituency, Budda Seshareddy, complained that Chandrababu had promised to give a new job for every household but people were instead losing their existing jobs. As part of Gadapagadapaku YSR Congress programme, he toured in Gajulapalle. He complained that crores of rupees of public funds were being wasted that were supposed to be spent on public welfare schemes like pension to the qualified. He called for offering victory to YSRCP president YS Jagan in 2019 elections and assured them that YSRCP Government would chase away their problems.
Please grant good quality houses
Nellore (Sullurupet): Fishermen from Kuppala appealed for sanction of good quality houses, as they were visited by MLA Kiliveti Sanjeevaiah as part of Gadapagadapau YSR Congress programme. He conducted the programme at Thada, Periyavattu panchayats. He assured to take the fishermen's problem of ready-to-collapse houses to the notice of the district collector and get new houses granted. He slammed Chandrababu's Government's indifference towards the poor.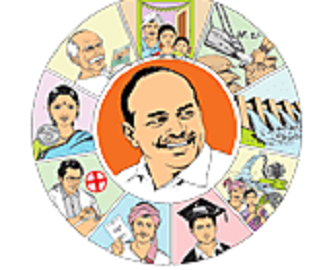 We were deceived by Babu's promises
Patthikonda (Veldurthi): DWCRA women and farmers complained to YSRCP's constituency in-charge, Cherukulapadu Narayana Reddy, that they had been deceived by the false promise of loan waiver done by TDP at the time of elections. He held Gadapagadapaku YSR Congress programme at Ramallakota village and learnt about people's problems. He handed over Praja Ballot to people and gathered score given by people to Chandrababu's Government. Narayana Reddy spoke on this occasion to slam the preference given by Chandrababu to publicity rather than public welfare.