The Poor Will Have Justice Only Through YSRCP

Gannavaram (Manepalli):
 The poor in the state would be benefited only if YSRCP president YS Jagan became the CM of the state, mentioned YSRCP CGC member Kudupudi Chittabbayi, state youth wing president Jakkampudi Raja and coordinator Chittibabu. As part of Gadapagadapaku YSR Congress programme, they toured in Manepalli and learnt people's problems. Then they collected responses for Praja Ballot, the 100-point questionnaire about people's satisfaction towards Chandrababu's rule.
Nellore: All the deserving should be given pension irrespective of Janmabhoomi committees, Nellore urban MLA Dr Anil Kumar Yadav demanded the Government. He held Gadapagadapaku YSR Congress programme at the 49th division's Santhapeta, Edgamitta, Rajendranathnagar, Tukumanukumitta and Metlarevu areas. He explained Chandrababu's deceptive ways at every doorstep. He stated that 35,000 applications for pension were pending in the city and that this issue had earlier been brought many times to the notice of the collector.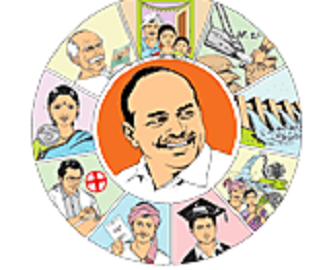 Jaggayyapeta (Vatsavayi): Gadapagadapaku YSR Congress programme was held by YSRCP state general secretary Samineni Udayabhanu at Vatsavayi. On this occasion, people from SC colony revealed their problems to him. They described how they were suffering due to the unavailability of water. Samineni Udayabhanu spoke on the occasion and slammed the tyrannical rule going on in the state. He assured the people not to be discouraged as YSRCP rule was soon to come.
Pratthipadu: SC and ST colonies in devastated state were not cared for by officials or public representatives, complained YSRCP's coordinator of Pratthipadu constituency, Pavarvatha Sripurna Chandra Prasad. Gadapagadapaku YSR Congress programme was held at Dalit colony of Ommangi village. People complained that their pensions were not being sanctioned and that the roads in their area were being left damaged. They also mentioned that their DWCRA loans had not been waived as promised and they had not received financial assistance for construction of houses as assured.