People Disgusted By Babu's Rule

Welfare schemes are being cut short
Nellore: Nellore MLA P.Anil Kumar Yadav and other YSRCP leaders toured in the 7th, the 15th and the 50th wards of Nellore as part of Gadapagadapaku YSR Congress programme. Speaking on this occasion, Anil Kumar Yadav remarked that the Government was cutting down on the welfare schemes like pension. ration, Aarogyashree and fees reimbursement. He mentioned that the people in the city were suffering due to the damages in canals and their nominal repair. He slammed the officials and the leaders behind these problems. He condemned the Government for not releasing the funds sanctioned under SC-ST sub-plan to the SC colonies.
If Jagan anna becomes the CM..
Kanigiri: Residents of the 10th ward reported about their suffering due to lack of basic facilities. As the constituency in-charge of YSRCP, Madhusudan, approached them as part of Gadaagadapaku YSR Congress programme, they revealed to him their problems. He toured in Pathuru, Hanefnagar and BC colony and explained to people about Chandrababu's deception. He mentioned that YS Jagan was to be made the CM of the state for YSR's golden rule to come back. He assured that welfare schemes would benefit everybody who deserved them.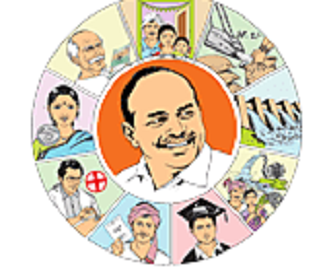 Problems Surround Babu's Rule
Araku: Araku constituency's coordinator Aruna Kumari mentioned that problems were seen at every doorstep. She held Gadapagadapaku YSR Congress programme at Araku along with official spokesman Appalu. Speaking on this occasion, Aruna Kumari said that problems were seen everywhere in Babu's rule. People were completely disgusted by Chandrababu's rule and would teach a lesson soon to Babu, Aruna Kumari remarked.