Chase Away These Corrupt Politics

All promises were forgotten
Visakhapatnam: Many promises were made at the time of elections. Development was planned. Old age pension was promised. Jobs were assured for the unemployed. But after coming to power all these promises were forgotten, complained people of Gandhinagar and Santhinagar. Gadapagadapaku YSR Congress programme was held at these colonies by Visakhapatnam East constituency's convener Vamsikrishna Srinivas. He went from one doorstep to another collecting responses from people regarding satisfaction towards Babu's rule. Speaking on this occasion, he stated that nobody was giving at least 10 marks out of 100 to Babu in the Praja Ballot. Visakhapatnam city's SC cell convener Boni Sivarama Krishna and Golagani Srinivas participated in the programme among others.
We were betrayed
Akkayyapalem:  Women of Akkayyapalem complained that Chandrababu's promises had betrayed them. YSRCP's coordinator of Visakhapatnam North constituency and former MLA Vijay Kumar, held Gadapagadapaku YSR Congress programme in the 34th ward. YSRCP ward president Paidi Ramana also participated in it.Vijay Kumar explained Chandrababu's deception as part of the programme. He called for chasing away Chandrababu's corrupt politics.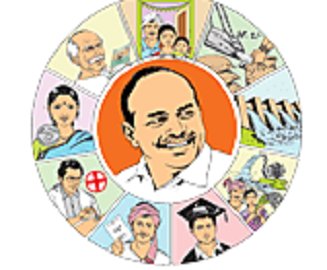 We can't pay interest on DWCRA loans
Kunderu (Kankipadu): Waiver of DWCRA loans and farmers' loans was all like a sorcery, mentioned agonised villagers of Kunderu. YSRCP's district president Kolusu Parthasarathy held Gadapagadapaku YSR Congress programme in Kankipadu. Speaking on this occasion, Subbalakshmi, a resident of the village, mentioned that Rs.30,000 had been given as DWCRA loan but they were not able to take the money nor were they able to pay the interest to the previous loans. She criticised Babu's deception through poll promises.
Traditional welcome to YSRCP cadre
Anakapalli: Gadapagadapaku YSR Congress programme, taken up by YSRCP, is being well-received by people. The party's district president Gudiwada Amarnath held the programme in the 18th ward of Anakapalli. He explained about Babu's deception to people and gave away handouts of Praja Ballot and collected responses. YSRCP activists Janakiramaraju, Bulli Babu, Srinivas, Suribabu, Ramesh, Jagan, Trinath and otehrs participated in the programme.