Reverse anti-people decisions: YSRCP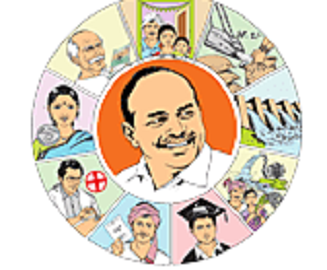 Hyderabad,
September 24, 2012: Admonishing the cowardly act of the State Government of
increasing the tariff soon after the Monsoon session of Assembly, YSR Congress
Party has demanded immediate rollback of power surcharge, besides stalling the
proposed hike in RTC bus fare.
"The
decision of the State to collect surcharge on power bills with retrospective
effect to nett Rs 9,670 crores and the proposal to hike RTC fare to amass Rs
5,600 crores is totally anti-people and will further burden the common man. We
demand the Government to immediately reverse these decisions," Party
spokesperson Gattu Ramachandra Rao told reporters here on Sunday.
The
manner in which the surcharge on power bills was taken immediately after the
House was adjourned is a mockery of democracy and the Kiran Kumar Reddy
Government is more interested in safeguarding its survival and to please the
High Command leaving people's problems in the lurch.
When
the main Opposition Party is weak or indifferent, for its personal reasons, the
State Government tends to toe the dictatori
al path, but YSRCP will question all
the anti-people decisions, he said adding that the prices of groundnut have
increased by 20 per cent from kharif to rabi, which should also be rolled back.
The
decision to collect surcharge on power with retrospective effect is not
acceptable as it will affect all sections of the society and the State has
shown its double standards by taxing the common man and favouring a select few
in power bills, he said adding that YSR governance had been the other way round
and was always pro-people.
The
proposal to hike RTC fare, collecting VAT on the increased diesel prices,
increase in prices of seeds will have a cascading effect on the livelihood of
all sections. The contention of the State that the proposal to hike RTC fare is
only due to the hike in diesel prices is faulty as the Government can forego
the VAT on the increased price and pass it on to the consumers without
increasing the bus fare, he said.
When
Prime Minster, who is also an economist of repute, while defending the Centre's
FDI policy said that money does not grow on trees, the same argument applies to
common man, who should be spared from being burdened too often, he said.
The
Assembly was conducted in the most unfair and shabby manner with not a single
issue of public interest being taken
 up for discussion. The issues that were
supposed to be discussed on the floor of the House (power surcharge and RTC
fare hike) became decisions overnight it was adjourned sine die.
"This
shows that the Government is not prepared for a debate and will act in a
dictatorial manner, but we will prevail and take up all such issues at every
available forum," he said.
 (Updated on Sept 24,2012)