People favour Jagan as CM

NDTV survey predicts 21 Lok Sabha seats for YSRCP
Hyderaba, Aug 28,2012:YSRCP chief YS Jaganmohan Reddy is favored to be the chief minister of AP by 48 per cent people, according to a survey conducted by the NDTV in association with Ispos.
The survey says while 18 per cent of the people voted for N Chandrababu Naidu as chief Minister, 17 per cent voted for K Chandrasekhar Rao. Kirankumar Reddy lagged behind with 11 per cent while congress leader Chiranjeevi is at the bottom of the list with six per cent.
The NDTV, popular for its accuracy in survey results, also predicted YSRCP will bag 21 Lok Sabha seats, mostly from the Seema Andhra region, in the event of a mid-term poll. TRS will walk away with 10 while the Congress has to satisfy with 9. The survey results showed 2 Lok Sabha seats for others.
Complete rout for TDP
The survey has said the opposition TDP will be completely routed in the polls in case mid-term elections are held.
CBI is congress weapon: Bharati Reddy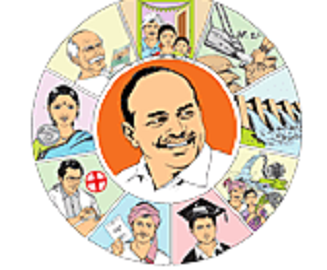 Union Minister for Power Veerappa Moily, participating in the debate on the survey over NDTV, told Prannoy Roy that the Congress had its own weapons to fight the elections and win over the people to its side.
Responding to Moily, YSRCP president Jagan Mohan Reddy's wife Bharati Reddy, retorted saying that CBI could be one of the weapons Moily talked about.
She also said YSR-led Congress was voted to power second time as he was closer to people and people also considered him as his savior. Reiterating her husband's statement that YSRCP will not support the BJP, Bharati Reddy claimed Jagan enjoyed total support of the people in the state.
Moily had parried a question from Prannoy Roy whether the Congress would show some soft corner towards Jagan ahead of the elections.