Let Us Patiently Wait For The Good Times To Come

Grand welcome
from the leaders, the followers and the members of YSRCP
An ear lent to
people's problems
Blessings to
newlyweds
Special
prayers in Dargah
Condolences to
certain families
Fury towards
betrayer Babu
YSR District: Leader of opposition and YSRCP president YS Jagan extensively toured in
YSR district. He spent time with people, knowing their problems. He consoled
the families of demised farmers and filled courage in them. He ensured his
support to them. YS Jagan was grandly welcome by the people and the leaders,
the followers and the activists of YSRCP. They spoke to the people's leader and
shared their concerns and problems with him. In spite of hot temperatures, he went
on to patiently tour throughout the day and lend an ear to the problems faced
by people.
YS Jagan slammed Chandrababu for ignoring
all the promises made to the people prior to elections. He condemned Babu's
lack of commitment in fulfilling the hopes of the people who had voted for him
in spite of completion of two years of tenure. He criticized Chandrababu for
ruling with betrayal. YS Jagan toured in Chakrayapet and Vempalle mandals on Wednesday.
Women and the aged complained to him in different places regarding not
receiving pension, loan waiver not happening and ration cards and houses not
being issued.
YS Jagan assured them that he had been
fighting for the resolution of their problems in the assembly and demanding
justice from Chandrababu. He stated that Chandrababu had been bluffing and
evading answering the questions put by the opposition to him. YS Jagan added
that Babu was least bothered about the welfare of the people of the state. He
remarked that it had been proven that Chandrababu was an expert in deception. He
assured that the situation would get better and that he would not give up
fighting for their cause. He suggested them to be brave and patient.
Blessings to newlyweds
YS Jagan showered his blessings on some
newlywed couples in the area. As he could not attend their weddings due to assembly
sessions, he went to their houses on Wednesday and conveyed his blessings to
them. Ex.MPTC of Siddhareddypalle Subbireddy had gotten his son Abhay Reddy married
to Bhavana. YS Jagan blessed them and then went on to bless another new couple,
the close relatives of mandal youth convener of Devaraguttapalle Venkata
Subbaiah, Nagaprasad and Swathi. Later he also blessed the newlyweds Venkata
Krishna and Peddareddemma, the son and daughter-in-law of single window
director Venkata Subbaiah.
Special prayers in Dargah
YS Jagan held special prayers at the dargah
of Gandikovvuru. A huge number of women and the aged gathered there on knowing about
the leader's arrival. He listened to their problems. He then held special
prayers in a traditional manner at the dargah in nearby Moulali Saheb. The
spiritual veterans explained to him the prominence of the dargah. They invited
YS Jagan and Kadapa MP YS Avinash Reddy to the upcoming Urusi festival
celebration.
Affectionate welcome at every step from
women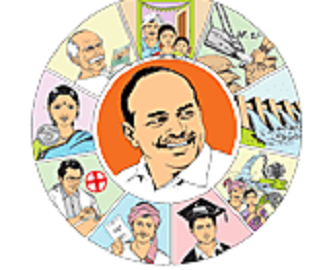 At villages like Addalamarri, Kumara Kalva,
Chirukampalle, Vennapalle, Siddhareddygaripalle, Takkallapalle,
Nakkaladinnepalle, K.Rajupalle, Devaraguttapalle, BC colony, Marellamadaka,
Gandikovvuru, Chakrayapeta, Gandi and Kummarampalle, YS Jagan was warmly
welcome by people. Not bothered about the high temperatures on the hot summer
days, they waited for the arrival of their leader and gave him affectionate
handshakes. They welcomed him with fireworks and flower petals. Women, in
particular invited him into their villages in a traditional manner.
Commiseration to certain families
Leader of opposition in AP YS Jagan extensively
toured in Chakrayapet mandal and consoled many families. Primarily, he
expressed his condolences to Kalavathi, the wife of Mohan Reddy, a farmer of
Siddhareddygaripalle who had committed suicide due to mounted debts. Later he
commiserated the wife Savitri and the son Subbareddy of Lakshminarayana Reddy
who had recently died of ill-health. YS Jagan comforted Omkar Reddy, the son of
Moksham Rangareddy as he had been suffering from ill-health.
He paid tribute to the remains of Peeraiah,
who had died on Tuesday of ill-health. In light of the recent demise of
ex.sarpanch Saraswathamma, the mother of YSRCP grieven cell district president
Prasada Rao in K.Rajupalle, he consoled her family. He visited Shabbir, the son
of Mastan of Buruzupalle, who had been suffering from ill-health and inquired
about his well-being. YS Jagan empathized with the families of recently demised
Alla Obulu, Gopal, single window director Venkata Subbaiah, Obayya and Reddaiah
of Devaraguttapalle. He ensured all these families support on behalf of YSR
Congress Party.
YS Jagan commiserated Reddaiah suffering
from ill-health. He also comforted the family of Anganwadi teacher Tummala Laizamma
of Chakrayapeta who had recently died of ill-health. Then he went to
Kummarampalle village of Vempalle mandal to console ex.sarpanch Ramanjaneya
Reddy and his family in light of recent death of his father and ex.sarpanch Hanumanthu
Reddy. YS Jagan met Siva Sankar Reddy of Peddajuturu of Vemula mandal and Bandi
Kondareddy of V.Kotthapalle who were being treated for spinal cord problem at
Dinesh medical centre in pulivendula, inquired about their health status and comforted
them. The people's leader was followed by leaders of Vemula mandal Sambasiva
Reddy, Velpula Ramu, MPTC Malreddy, sarpanch of Peddajuturu Ramakrishna Reddy, lawyer
Narasimha Reddy, Kotthapalle Krishna Reddy and Prasad Reddy.
Leaders meet YS Jagan
Certain leaders met YS Jagan during his
tour in Pulivendula. MP of Kadapa YS Avinash Reddy, state general secretary
Devireddy Siva Sankar Reddy and district president Akepati Amarnath Reddy
followed YS Jagan throughout the tour, participating in all the events along
with him. MLAs P.Ravindranath Reddy, Korumutla Srinivasulu, Ananthapuram ex.MP
Anantha Venkatrami Reddy, DCMS vice-chairman Avula Vishnuvardhan Reddy, ZP
vice-chairman Iragamreddy Subbareddy, Pulivendula constituency's leaders
Sambasiva Reddy, Velpula Ramu, Maraka Siva Krishna Reddy, R.Janardan Reddy,
Bellam Praveen Kumar Reddy, Chandra Obula Reddy, official spokesman Chavva
Sudarshan Reddy met the people's leader. They discussed various issues with him
including those related to the party. Leaders and corporators of Kadapa, Maseem
Babu, Nityananda Reddy, activists from Railway Koduru, Prodduturu, Jammalamadugu
also met him.
YS Jagan was gifted with a statue of Lord
Buddha by C.Madhusudan Reddy of Srikalahasti in Chittoor district. Students of
JNTU, Pulivendula gifted him with a memento. A few counselors met YS Jagan in
the presence of municipal vice-chairman of Pulivendula Chinnappa.
ఇదే వార్తాంశం తెలుగులో:  http://bit.do/bT8Ph 
For Video : https://goo.gl/AD2haO