Govt failed to provide jobs: Sharmila

Mahboobnagar,
December 10: Holding the State Government responsible for the acute power
crisis which has thrown thousands of workers out of jobs and rendered farmers
helpless, Sharmila has said neither the government nor the Member of Parliament
K Chandrasekhar Rao is worried about people's problems.

Addressing a
large gathering here on Monday, she said, the severe power crisis has affected
the industries badly and many units were shut down as there was no sufficient
power to run the industry, while farmers have lost crop due to lack of water.
The State government and the local MP as well could not even provide drinking
water, which is the main problem here.
Chief
Minister has promised to provide 15 lakh jobs to the youth but could not
provide jobs to even 10 per cent of the promised figure, he has boasted of
bringing in Rs 6 lakh crores of investments but many industries are being shut
down due to power crisis, she said. 
Only YSR had
the vision of channelising the resources in tune with the needs region wise
without any discrimination. Be it fees reimbursement, free power, providing
water for irrigation or drinking water it was YSR who kept all the sections
happy but the present State Government has failed on all fronts.
The pavala
vaddi scheme has been done away with and to whom Kiran Kumar Reddy is extending
the loans, no body knows, she said and charged the main opposition leader N
Chandrababu Naidu with indifference towards farmers, students and all sections
of people.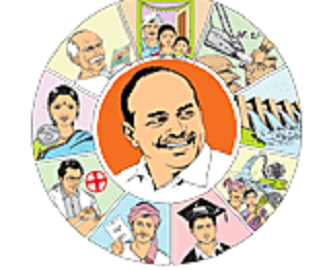 During the
padayatra, he has been spreading lies and promising the moon without looking
into the feasibility of the schemes he has been speaking about. He has been
emulating YSR in promises, but he spoke very low of the schemes when he was in
power. Now he has been promising the same schemes, which
he opposed while in power. This speaks of his character, she added. 
What YSR had
and Chandrababu Naidu does not have is reliability and credibility, she said.
Congress and TDP have conspired to jail YS Jagan Mohan Reddy, but a day
will come when he will come out and implement all the schemes of YSR and more.