Complaints Filed Throughout The State Against Chandrababu

Cases filed against Chandrababu throughout the state under section 420
Police complaints against Chandrababu for deceiving people
YSRCP leaders and activists filed cases against Chandrababu in police stations of all constituencies throughout the state for his deceptive rule of two years and negligence towards the promises made to people. Opposition YSRCP took the responsibility of lodging cases against Chandrababu who had given distress to the people who had hoped for the promises to be kept. Demanding action against Chandrababu, leaders and activists filed legal cases against him.
MLA Desai Tippareddy supervised the filing of complaints in Madanapalli of Chittoor district. In Punganuru police station, deputy floor leader and former minister MLA Peddireddy Ramachandra Reddy led the lodging of complaints. Former MLA Bhumana Karunakar Reddy, MLA Roja and MLA Dr.Sunil Kumar led the activists of YSRCP in filing complaints in Tirupati, Nagari and Bagaru Palyem respectively.
MLA Pushpa Srivani complained in Kurupam of Vizianagaram district. MLA Rajannadora supervised the programme in Saluru police station. MLC Kolagatla Veerabhadra Swamy and Sambasivaraju supervised the programme in Bobbili police station while Suresh Babu and Trinatha Rao did it in Nellimarla police station. In S.Kota, Nayudu Babu and mandal conveners filed cases against Chandrababu.
 Gudiwada Amarnath led leaders and activists of YSRCP to file cases against Babu in Visakhapatnam's 3 town police station. Nagireddy in Gajuwaka, Karri Sitaram in Bheemili, Karanam Dharmasri in Chodavaram, Janaki Ramaraju in Anakapalli and Ganesh in Narsipatnam filed cases against Chandrababu.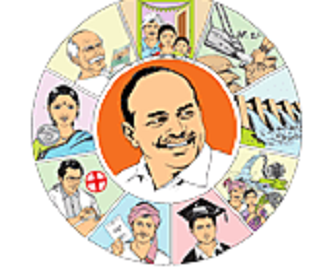 MLA Kodali Nani led the party's leaders and activists in filing cases against deceptive Chandrababu in Gudiwada of Krishna district. MLA Rakshananidhi in Tiruvur, senior leader Parthasarathy in Penumaluru police station, party's general secretary Samineni Udayabhanu in Jaggayyapeta, Ramachandrarao in Gannavaram police station, MLA Meka Pratapa Apparao in Mylavaram and MLA Uppuleti Kalpana in Pamarru led the programme of lodging complaints against Chandrababu under section 420. The party's city president Vangaveeti Radha led police complaint filing in Governorpet police station, demanding action against deceptive Chandrababu.
YSRCP leaders filed cases in all police stations of Ananthapuram district against Chandrababu. District party president Sankar Narayana, former MLAs Gurnatha Reddy, Kapu Ramachandra Reddy and party leader Dr.Siddhareddy led the programme.
YSRCP leaders of Prakasam district gave complaints against Chandrababu in police stations throughout the district. Balaji in Chirala, Koppam Prasad, Venkat Rao and Venugopal in Ongole 1 town filed cases in police stations.