Complaints Against Chandrababu's Deception

Hyderabad: YSRCP leaders have filed complaints against Chandrababu for deceiving people of the state with his fake promises. This programme is happened in constituencies throughout the state.
To get into power, chandrababu made numerous promises at the time of elections, some of them being waiver of farmers' loans and DWCRA women's loans, construction of good quality houses for the poor and jobs or stipend for the unemployed. After coming into power, he forgot all about these promises and thus deceived the people, who had been waiting for two years to see them being kept. On behalf of the frustrated people of the state, YSRCP took the responsibility of filing cases against Chandrababu's deception.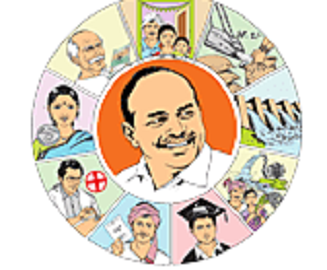 Party president of the district, Reddy Santhi supervised the programme in Srikakulam district. In Vizioanagaram district, the president and MLC Kolagatla Veerabhadra Swamy led the programme. Party president of visakhapatnam district, Gudiwada Amarnath and constituency coordinator Vamsikrishna Yadav supervised the lodging of complaints in 4th town police station, while kola Guruvulu and John Wesley supervised it in one town police station of the city.
Aluru Krishnamraju, former minister Viswaroop and Kudupudi Chittabbai and constituency coordinator Pendem Dorababu, led the filing of complaints respectively in Sakinetipalli, Amalapuram and Pithapuram of  East Godavari district. Alla Nani led the programme in West godavari District. YSRCP leaders and activists rallied to the police station and lodged complaints against Chandrababu in Palakollu of the district under the leadership of MLC Meka Seshubabu.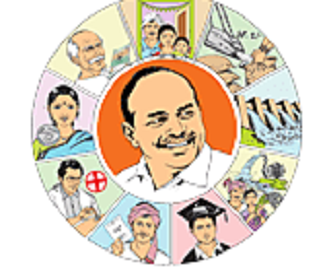 Cases were filed against Chandrababu in various places of Guntur, Krishna, Prakasam districts.
YSRCP leaders and activists slammed Chandrababu's rule in Nellore district. Cases were filed in 4th town police station under the supervision of MLA Kotamreddy Sridhar Reddy and deputy mayor Mukkala Dwarakanath. Following MLA Kakani Govardhan Reddy, YSRCP leaders and activists rallied to the police station and filed cases in Venkatachalam police station.
In one town police station of Chittoor, YSRCP leaders Jangalapalli Purushottam Reddy and Chandrasekhar lodged complaints. YSRCP activists filed cases in Tamballapalli police station and Srikalahasthi police station. At Pulivendula of YSR District, YSRCP leaders and activists rallied under the leadership of YS Vivekananda Reddy and YS Avinash Reddy. Complaints were lodged in Ananthapuram police station. Party district president Akepati Amarnath led a rally at Rajampeta, in which the party's activists and leaders participated. Complaints were also filed in Proddutur police station.
MLA Gouru charitha Reddy and district party president Gouru Venkat Reddy filed complaints in Panyam police station of Kurnool district. Former minister Katasani Ramreddy complained in Banaganapalli police station.