Bhuma's arrest politically motivated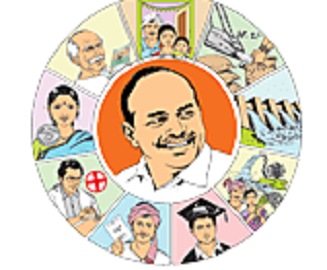 Hyderabad, Nov 6: Describing the cases foisted on Nandyala MLA as vindictive, politically motivated and against the spirit of democratic functioning, YSR Congress has said that legal option would be explored and said the Chief Minister should own the responsibility should any harm befell on Bhuma family.

In her maiden media conference at the Lotus Pond Party office here, Allagadda MLA, Bhuma Akhila Priya said: "The cases were foisted on her father with ulterior motive and propaganda has been launched by TDP district president that there would be a by-election to Nandyal soon as TDP knows how to indict the present MLA. This shows the vindictive attitude of the State Government and Chief Minister N Chandrababu Naidu would be held responsible if anything happens to the members of our family.

My father did not come out of the shock of the tragic death of my mother and has been spending more time in Nandyal with the people and looking after their welfare. The day the incident occurred at the Municipal Council Hall, the Chairperson has called off the session even while Bhuma Nagi Reddy was speaking on an issue of public importance. Before that there was pandemonium as TDP and YSRCP members were involved in a slanging match.

When my father in a spontaneous reaction, has asked the Chair to hear him out, which is very much in adherence to the protocol, she adjourned the meeting even as my father was insisting on hearing his version on the issue of road widening. Then things moved at a fast pace and three cases were slapped on him beginning with attempt to murder, SC, ST Atrocities and Conspiracy.

This is nothing but political vendetta and police have acted at the behest of TDP leadership and refused to accept our complaints. The Chairperson Sulochana, is a greenhorn and lacks procedural knowledge. As only one of the three cases has been accepted, my father will come out with a clean chit and then we will explore legal options to sue the Chairperson and the concerned officials," she said.

The entire act was premeditated as there was heavy surveillance on my father even before the skirmish at the Muncipal Council Hall. There has been propaganda about the faction feuds, but we are against such acts which helped my parents to get elected to the Assembly and Parliament with people's mandate, she said adding that they will not be cowed down by such arm-twisting and their resolve to take on the bull by its horns will be further strengthened.

Party senior leader Dr MV Mysoora Reddy who also addressed the media lambasted the police for their highhandedness and succumbing to pressure from higher-ups without using their discretion. The police manual is not a statute and a history (rowdy) sheet is opened on habitual offenders to keep an eye on their movements.

"It is ridiculous on part of the police to open history (rowdy) sheet on an MLA, who is a people's representative and is supposed to be with the people all the time. Police officials have to use their discretion and should not yield to pressure from political leaders. If the situation continues it will lead to police raj," he said.

Within five months of coming to power, TDP Government has shown its true colours by using police to settle political scores as cases were booked against six YSRCP MLAs, while the police turned a blind eye to cases where TDP leaders and their kin were involved.

A case with serious charges against a former TDP MLA was withdrawn in Kovvuru of West Godavari district, while the son of Vijayawada Central MLA was pulled out of a road-rage case using some false pretext. During Guntur mandal parishad election, travelling YSRCP leaders were waylaid and forcibly taken away and no case was registered even when some of them were injured in the tussle as the police could not decide on the jurisdiction.

Similar incidents happened during the Zilla Parishad elctions in Nellore and Kurnool but no case was booked as the offenders were TDP workers and leaders. In every district there has been some incident or the other of this nature during elections to local bodies but everyone went scot-free.

When an MLA was trying to speak on people's issue, three cases were booked in one incident and a history (rowdy) sheet was opened. "The ignorance of the police official is unpardonable. They should use their discretion and should not blindly follow political dictates. This will result in dictatorial attitude which is not good for the State," he said.