Financial Assistance To Subbareddy's Family

Subbareddy's death in a recent road accident
His family meets YS Jagan at the party's office
YSRCP stands  supportive
Huge financial help offered
YS Jagan consoles the family of medico Sandhya Rani
Hyderabad: YSRCP stood supportive of the family of Subbareddy, who had passed away due to brain death caused by a recent road accident. Subbareddy's family members met the leader of opposition of AP and YSRCP president, YS Jagan, at the party's office today. Pelleti Subbareddy was from Karedu village in Ulavapadu mandal of Prakasam district. At age 35, he succumbed to a road accident on the 2nd of October after he was joined in a local hospital due to brain death.
His death at such a young age pushed the family into financial problems. Despite this, the family went ahead and donated his organs to five people in need of them. He is survived by his wife Siva Kumari, mother Subbamma, children Sameera (9) and Jaswanth (7). Pushed into a confused state after the death of the head of their family, they hardly received any help from the Government.
Upon knowing about their helpless situation, YSRCP president, YS Jagan, called for helping the family and this met with a tremendous response from YSRCP leaders and NRIs. Rs.1 lakh has been deposited in the name of each of the kids and Rs.60,000 in the name of the mother. A total of Rs.2,60,000 was donated by NRIs. Patil Satyareddy from Virginia agreed to bear the education expenses of the children. Ram Prasad Reddy Bayyapareddy from the same state offered to bear the expenses of the family. 
On Saturday, YSRCP president, YS Jagan, handed over the money to the family. Party leaders and MPs Mekapati Rajamohan Reddy, YV Subbareddy, Puttaparthi YSRCP leader Dr.Harikrishna and others participated in the event. As Dr.Harikrishna explained the situation of the family to YS Jagan, MP Mekapati announced an additional assistance of Rs.50,000 to the family. YV Subbareddy stated he would be of support to the family.
YS Jagan appreciated everybody who had come forward to help the family that had donated organs to people in need. The members of the family thanked YS Jagan for his concern and special care.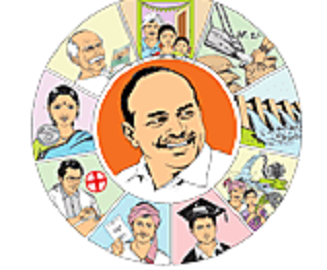 On the other hand, the family members of Sandhya Rani, a medico who had committed suicide recently, met YS Jagan at YSRCP's central office. YS Jagan condoled them and filled courage in them. Sandhya Rani committed suicide to escape from the harassment of Lakshmi, one of her professors. YS Jagan expressed severe condolence towards the fateful incident and extended support to the family.