Jala Deeksha Is A Huge Success

YS Jagan's 3-day Jala Deeksha comes to an end
Huge support to the strike staged by the people's leader
People and party activists and leaders reach Kurnool in solidarity
Slogans raised against unlawful projects
Kurnool: The Jala Deeksha launched by the leader of opposition and YSRCP president YS Jagan has ended on a triumphant note. The strike that was launched with the good intention of providing water to the people of the state has earned huge support. YSRCP activists, leaders and people reached Kurnool in solidarity to the strike. Various classes of the society including the farmers, the women, the students, the employed and the unemployed and various public organisations have extended their support to the agitation staged.
YS Jagan has greeted every person who has come to meet him during the 3-day strike with pleasant smile. On the other hand, agitations, protests and relay strikes have been held at mandal headquarters throughout the state by YSRCP leaders and activists in solidarity to the Jala Deeksha. At various centres, people voluntarily participated in the protests. They raised slogans in praise of YS Jagan for relentlessly fighting against their problems.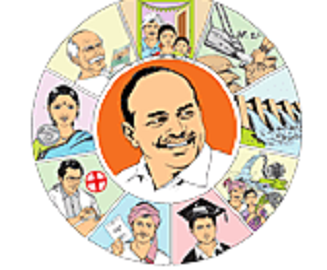 YS Jagan has held a 3-day Jala Deeksha at Kurnool against the failure of CM Chandrababu Naidu in preventing the construction of projects by Telangana Government. He aimed at waking up the dormant Government in direction of achieving the benefits of the state and protecting its rights and taking this issue to the notice of the centre. He has condemned the unlawful construction of projects on rivers Krishna and Godavari by Telangana Government without obtaining permissions.  
YS Jagan exlained the impending danger to the state if Palamuru-Rangareddy and Dindi lift irrigation schemes were completed. He slammed the silence of Chandrababu's Government towards the ongoing atrocity and opined that the indifference was due to Chandrababu's fear for having to face inquiry in Note for Vote case. He condemned the mortgaging of the state's rights to the centre and to Telangana. YSRCP MLAs, MPs, MLCs and other leaders reached the venue of Jala Deeksha and expressed their solidarity to the event.
Speaking on this occasion, the leaders slammed Chandrababu's negligent attitude. They commented that Chandrababu had flown abroad to enjoy leaving the state to suffer, while YS Jagan was staging Jala Deeksha to protect people's right for water, even without caring for his health. They slammed Chandrababu Babu for exploiting the state's wellbeing for his own selfishness. The leaders called for the people of the state to unite and fight under the leadership of YS Jagan in the direction of achieving their rights.