YS Jagan's Relentless Fight For Public Welfare

Babu's fake rule
Visakhapatnam East: YSRCP's convener of Visakhapatnam East constituency criticised that Chandrababu was deceiving the state with his false statements and fake rule and was passing time by setting aside development. As part of Gadapagadapaku YSR Congress programme, he toured in Pedda Jalaripeta of the 17th ward. They went to every doorstep and inquired about people's well-being. He also explaining to them the corruption committed by TDP Government in the name of development. P.Neela Reddy, the president of the 17th ward, local woman leader and additional secretary of the party for the city, Kari Srilakshmi participated in the programme.
We were deceived after voting for TDP
Krishna (Kaikaluru): Mandal convener Neelapala Venkateswara Rao held Gadapagadapaku YSR Congress at Venkatapuram village. Party coordinator of the constituency, Doolam Nageswara Rao (DNR) also participated in the programme. Along with local leaders, they went to every doorstep in the village and inquired about the people's well-being. People, on this occasion, exclaimed that they had been deceived after voting for Chandrababu. The party's BC cell secretary Posina Paparao Goud, women's wing state secretary Namburi Sridevi, district secretary Ayinala Brahmaji, district leaders of various wings, Sk.Chanakhak Basha, Katta Venkatramaiah, Chitturi Bujji, Padamati Satyanarayana and others participated in the programme.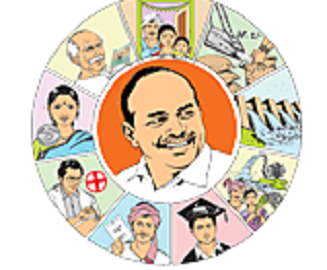 Two years passed, but not a paisa has been waived
Srikakulam (Narsannapet): It was promised that DWCRA loans would be waived if TDP came to power. No loan had been waived in the past 2.5 years of its rule, commented women during Gadapagadapaku YSR Congress programme held at Akkurada and Kaminayudupeta colony of jalamuru mandal. The programme was held there by former MLA and YSRCP BC cell's state president Dharmana Krishnadas. Villagers Chenchala Ammanna, Bora Simmanna, Paila Tavitamma, Chenchala Sarojini, Lotti Ramanamma and others complained about their drinking water problems and not being sanctioned houses in spite of being qualified. Later, speaking to the media, Dharmana Krishna Das stated that YSRCP president YS Jagan had been relentlessly fighting for public welfare. He called for support from all communities to make him the next CM.