YS Jagan Has To Become The CM For The Problems To Be Solved

YS Jagan has to come for the lives of the poor to be transformed
MLA Roja in Gadapagadapaku YSR Congress
Chittoor district (Nagari): YSRCP MLA RK Roja mentioned that the party would always be ready to fight on behalf of people and would achieve the implementation of promises by the Government. As part of Gadapagadapaku YSR Congress programme, she toured in KV Puram, Buchivanettham and Kalikapuram villages of Vijayapuram mandal. She went to every house and learnt the problems of the people.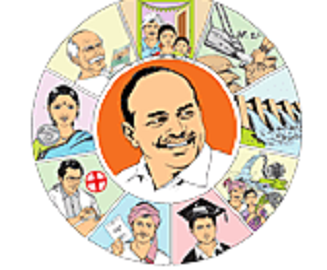 People expressed their agony regarding lack of land documents, unavailability of loans for gold and failure of waiver of their loans. They also mentioned about the mud roads becoming damp due to rains. New rations cards were not being sanctioned, they complained.
MLA Roja spoke to criticise the TDP Government for causing pain to the people by not realising the promises made at the time of elections. She slammed the CM for his frequent trips abroad, leaving people of the state to suffer.
Roja inquired if any of the ruling party's promises had been realised and asked the people to come to her if they had any problems. She opined that YS Jagan had to become the CM for the people's problems to be solved. Participating in the event were party leaders Lakshmipathi Raju, mandal president Ramakrishnama Raju, farmer leader Ravi Naidu, MPTC member Siva Kumar, Anand, Sekhar Reddy and Benjamin among others.