Troubles Due to TDP's Irregular Rule

Welfare schemes killed
East Godavari (Mandapet): Gadapagadapaku YSR Congress programme taken up prestigiously by YSRCP completed two months and is going on successfully.  As part of the programme, coordinator of Mandapet constituency, Pattabhi Ramaiah Chowday, toured in Velagathodu village of Mandapet Rural mandal. As he visited and inquired people, they revealed their problems like roads and drainage in devastated state, not receiving ration and pension and house construction bills. Speaking on this occasion, Chowdary called for teaching Chandrababu a lesson for ignoring the poll promises made to people.
People's problems to the collector's notice
Nellore (Sullurupet): MLA of Sullurupet constituency, Sanjeevaiah, took to the notice of the district's collector, Muthyala Raju, about the problems being faced by people in the area. Stating that there were many people in every mandal who were not able to receive pejnsion in spite of being qualified for it, he also reported that due to technical defects in e-pass system, hundreds of poor families were not able to get pension. He aso informed the collector how people were facing drinking water problems. He complained that the ruling party leaders had left construction of bathrooms unfinished after pocketing the sanctioned funds. He also explained to him how the leaders had committed corruption in Neeru-Chettu scheme. The collector assured the MLA that he would take necessary action.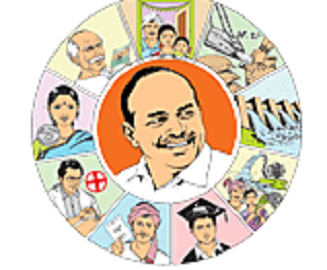 Dharmana slams Babu's atrocities
Srikakulam (Narannapeta): Former MLA Dharmana Krishna Das toured in Jaduru Gram Panchayat of Polaki mandal in Narsannapet constituency. People welcomed Dharmana with warmth. The leader inquired about people's problems and explained to them about Chandrabbau's corruption and atrocities.