Time Is Nearing For TDP's Downfall

Loan waiver is a lie
Krishna district (Katuru): People shared their agony with YSRCP district president, Kolusu Parthasarathy, about their loans not being waived and they had been deceived by TDP's false promises. As part of Gadapagadapaku YSR Congress programme, he toured in Katuru village and inquired about people's problems. Speaking on this occasion, he commented that time was nearing for the downfall of TDP Government and that YSRCP president YS Jagan had to become the CM for people's problems to be solved.
YSRCP will enter power in 2019
Punganuru: YSRCP MLA Peddireddy Ramachandra Reddy mentioned that Chandrababu had made impossible promises at the time of elections and people would teach him a lesson soon for his deception. He confided that YSRCP would form the Government after 2019 elections, as he spoke during the Gadapagadapaku YSR Congress programme conducted by him at Punganuru. He learnt about people's problems and then collected people's opinion on Chandrababu's Government through Praja Ballot, the 100-quesion satisfaction survey.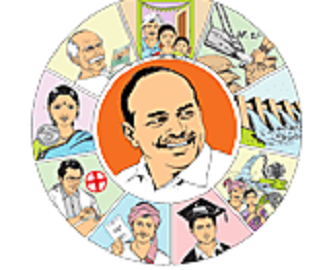 People disgusted by Babu's rule
Kurupam: YSRCP MLA of Kurupam, Pamula Pushpa Srivani, stated that Chandrababu had made numerous promises at the time of elections and formed Government with deception. She conducted Gadapagadapaku YSR Congress programme at itika Gadabavalasa and Itika villages. She inquired people about their well-being. Speaking on this occasion, she opined that people of the state were disgusted after seeing Chandrababu's rule for 2.5 years. She commented that a Government that was formed on the foundation of false promises would not last long.