Teach The Corrupt Government A Lesson

Teach Babu a lesson through Praja Ballot
Nandyala: YSRCP's in-charge of Nandyala constituency, Rajagopal Reddy, called for the people to teach Chandrababu a lesson through Praja ballot, as he spoke during the Gadapagadapaku YSR Congress programme conducted in Brahmanapalle of the mandal. He criticised that Chandrababu had immersed himself in corruption in the past 2.5 years of rule and opined that YS Jagan's rule would have no place for corruption.
All classes have been deceived
Allagadda: YSRCP's constituency in-charge Ramalinga Reddy commented that people were not even enjoying minimum resources under Chandrababu's rule. As part of Gadapagadapaku YSR Congress programme, he toured in Emanual church and Yesunathapuram areas of the city. He mentioned how people had voted for TDP in the elections believing that they would waive all loans as promised. He commented that Babu had deceived all classes of the society, including the aged, the youth, the women, the unemployed, the students and many others. He also demanded that Chandrababu should come to his senses at least now and realise the promises he had made to people.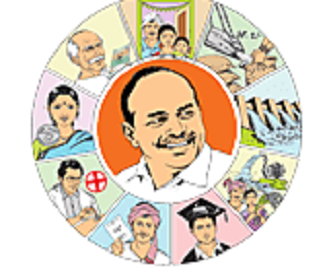 Great warmth at every doorstep
Kodumuru: YSRCP's constituency in-charge Murali Krishna stated that problems were being reported everywhere during Gadapagadapaku YSR Congress programme. He expressed concern towards the people who had been deceived by Chandrababu's deceptive promises. Mentioning how warmly people were receiving YSRCP leaders at every doorstep, he commented that people were furious towards Chandrababu's corrupt rule.