People Are Against The Yellow Party

Visakhapatnam district: Coordinators of Araku constituency, Aruna Kumari, Poya Rajarao and Surya Narayana, district official spokesman Setty Appalu held Gadapagadapaku YSR Congress programme in Enugurayi panchayati of Munchangipattu mandal. They are inquiring about people's well-being. People agonised by Chandrababu's deception are owing to bid him goodbye and prosper under YS Jagan's rule.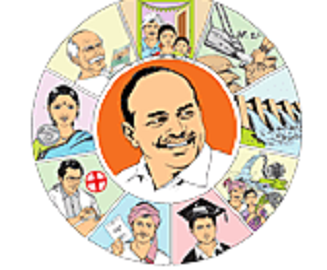 YSRCP leaders and activists toured in Salika Mallavaram panchayati of Golugonda mandal in Narsipatnam constituency as part of Gadapagadapaku YSR Congress programme. YSRCP leader Doolam Nageswara Rao held the programme at Gannavaram of Krishna district. He explained about Babu's deceptice ways at every doorstep on this occasion.
In-charge of Srisailam constituency, Budda Seshareddy, toured in Bandi Atmakur mandal's Singavaram village. He learnt people's problems. People condemned Chandrababu's lies and deception in greed for power. They cautioned that they would teach him a lesson in the upcoming elections.