Let Us Chase Away the Corrupt Rule

Gadapagadapaku YSR Congress programme is going on successfully throughout the state. People are receiving YSRCP cadre with affection. Nellore Rural MLA Kotamreddy Sridhar Reddy held the programme at the 17th division and inquired about the people's well-being. He gathered responses from people to the questionnaire regarding their satisfaction towards Chandrababu's rule. People expressed severe disgust towards the rule.
Gadapagadapaku YSR Congress was held at Chinamodugupalli village in Vatsavayi mandal of Krishna district's Jaggayyapeta constituency by YSRCP's state general secretary Samineni Udayabhanu. He uncovered Chandrababu's deception at every doorstep. He called for putting an end to Chandrababu's deceptive rule.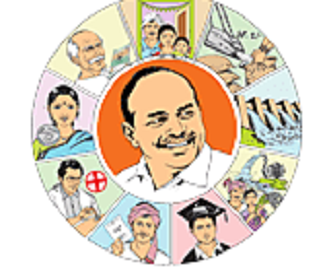 Burra Madhusudan held gadapagadapau YSR Congress programme at Peddagogulapalli village of CS Puram mandal of kanigiri constituency in Prakasam district. People expressed utter dissatisfaction towards Chandrababu's rule as they were asked to score the administration through Praja Ballot survey.
Done constituency's MLA Rajendranath Reddy toured in RS Rangapuram village as part of gadapagadapaku YSR Congress programme. Banaganapalli constituency's in-charge Katasani Ramireddy held the programme in B.Palli mandal's Tanguturu village. Srisailam constituency's in-charge Budda Seshareddy toured in G.C.Puram and Allagadda constituency's in-charge Ramalinga Reddy toured in Rudravaram mandal's Mandaluru village. The leaders assured the people of the villages to wait patiently till their problems were solved by YS Jagan upon becoming the CM. Theycalled for the people to unite in chasing away Chandrababu's tyrannical rule.