A CM Who Forgot All About People's Welfare

Fury towards Babu who forgot all about his manifesto promises
Gadapagadapaku YSR Congress receives tremendous response
People revealing their problems to YSRCP leaders
Prakasam
district: The aged who are not receiving pension in spite of being qualified for it,
the farmers who have not paid their debts
because of believing in waiver promises, the poor who are expecting the
construction of good quality houses by the Government… everyone in the state
has one or the other problem due to Government's negligence. As part of
Gadapagadapaku YSR Congress programme, the people are revealing their problems
to the leaders who are coming to their doorsteps. They are expressing fury
towards Chandrababu.
As part of Gadapagadapaku YSR Congress programme, the MLAs and
the constituency coordinators of the respective districts have reached the
people and greeted them with affection. They called for people to support YSR
Congress Party, thereby putting an end to TDP's atrocious rule. They suggested
that YSR's golden rule could be brought back by making YS Jagan the CM.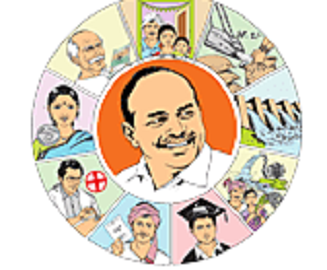 MLA Janke Venkat Reddy toured in Tippaipalem of Markapuram
mandal. Yadam Balaji, the coordinator of Cheerala constituency toured in
Desaipeta of Vetapalem mandal. Varikuti Amruthapani, the parliament in-charge
of Bapatla also participated in the programme. Parchuru constituency's
coordinator Gottipati Bharat toured in Koniki of Inkollu mandal. Kondapi
constituency's coordinator Varikuti Ashok Babu participated in the programme at
Vallayipalem of Marripudi mandal. Giddaluru constituency's coordinator I.V.
Reddy toured in Ravipadu of Kambham mandal.