Chandrababu's Deception Uncovered

People will teach Babu a lesson
Mantralayam: Balanagireddy, MLA of Mantralayam constituency, stated that Chandrababu always spoke but showed nothing in action. He toured in Chinnatummalam, Bapuram villages of Pedda Kadbur mandal as part of Gadapagadapaku YSR Congress programme. He mentioned the warmth received by YSRCP from people and their wish to see YS Jagan as the CM. He remarked that YSRCP had been receiving accolades as people's party for standing on their side.
Chandrababu's Government has no more future
Emmiganuru: YSRCP in-charge of Emmiganuru constituency, Jaganmohan Reddy, opined that it was almost time Chandrababu's Government shut down. He slammed Chandrababu for his frequent visits to China and Japan, leaving people to suffer. As part of Gadapagadapaku YSR Congress programme, he toured in Nandavaram mandal. He commented that the tours were meant to hide his face from people who would confront him about the promises he had made. He complained that Chandrababu had been giving away the state to the other countries.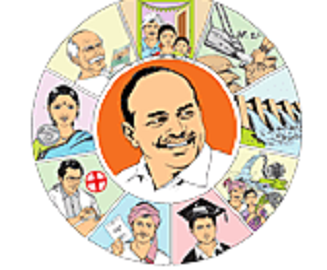 YSRCP in people's hearts
Kodumuru: In-charge of Kodumuru constituency, Murali Krishna, stated that Gadapagadapaku YSR Congress programme was successfully going forward with support from people. As part of the programme, he toured in B.Nagalapuram of Guduru mandal. He acclaimed YS Jagan as a people's leader and confided that people would offer him victory in the next elections. Murali Krishna commented that the people understood Chandrababu's deception pretty well and would teach him a lesson soon.