Chandrababu Lost People's trust

Babu is losing people's trust
Narasannapeta: The incompetent CM who had failed to realise the promises he had made at the time of elections was losing people's trust, commented YSRCP BC wing's state president Dharmana Krishna Das. As part of gadapagadapaku YSR Congress programme, he toured in Bandi veedhi, Telaga veedhi, Rajika veedhi, Neyyila veedhi areas of Major Panchayati. He criticised Babu for deceiving people and passing time without caring for their well-being.
Deceptive rule of Babu
East Godavari (Gannavaram): Villagers of Velavalapalli of Ayinavilli mandal complained that Babu had made promises like waiver of loans, sanction of housing loans, employment and unemployment stipend at the time of elections, but had later deceived them. As YSRCP CGC member Kudupudi Chettebbayi and P.Gannavaram constituency's coordinator Kondeti Chittibabu toured in their village as part of Gadapagadapaku YSR Congress programme, they explained Chandrababu's corrupt and deceptive ways to the people.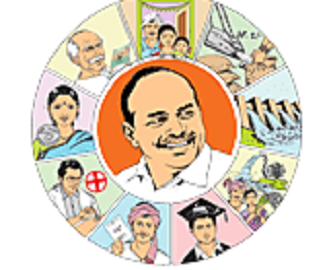 Deception in the name of toilets
Sulluripeta (Thada): Certain villagers of Isukamitta complained that TDP counselor Buddi Vijayalakshmi had committed corruption in the matter of construction of toilets. Gadapagadapaku YSR Congress programme was held at Isukamitta of Sullurupeta in the presence of MLA Kiliveti Sanjeevaiah. The people of the village stated to the MLA that Vijayalakshmi had acceted to build all the 100 toilets sanctioned but had not built even one.