Babu's Rule Is Demonic

It is an utter betrayal
Mudinepalli (Bomminampadu): BJP and TDP had promised at the time of elections that teh state would be sanctioned special category status for ten years. The parties had betrayed the common man very cruelly and it had become very hard to live under TDP's rule, exclaimed YSRCP constituency coordinator Doolam Nageswara Rao. As part of Gadapagadapaku YSR Congress programme, he toured in Bomminampadu and explained to the people about Chandrababu's deception.
Our villages are left unattended
Yalamanchiili (Achyutapuram): Women of Krishnapuram complained about lack of drainage system and roads and spread of diseases in their village. As constituency party coordinator Pragada Nageswar Rao reached their doorsteps as part of Gadapagadapaku YSR Congress programme, the villagers expressed severe disgust towards Chandrababu's rule. As they were asked to score Chandrababu's rule, they commented that Babu's rule was demonic and expressed it was a waste of time to even score it.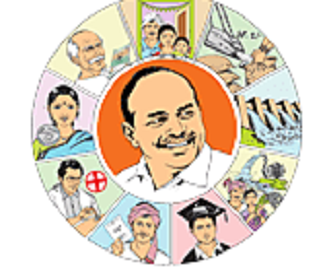 Babu has come, job has not
Mandapet: It had been proclaimed at the time of elections that jobs would come if Babu came to power. A job had been promised for every household, failing which unemployment stipend was. But it had been 2.5 years since Babu came and neither jobs had been given nor stipend, commented the constituency coordinator of YSRCP, Vegulla Pattabhi Ramaiah Chowdary. He toured in Mandapet as part of Gadapgadapaku YSR Congress programme and inquired about people's problems. He also gathered people's responses to satisfaction survey Praja Ballot. People, on this occasion, expressed severe discontent towards Chandrababu's rule.