Babu Is A Man Of Speech But Not Of Action

Government has lost people's trust
Srikakulam (Narsannapeta): It has been 2.5 years since Chandrababu had come to power, but not one of the poll promises had been realised, commented former MLA of Narsannapet constituency, Dharmana Krishna Das. Stating that the Government had lost people's trust, he slammed TDP for deceiving people with false promises. He inquired about people's problems during Gadapagadapaku YSR Congress programme held at Narsannapet.
A Government that speaks but does not act
Visakhapatnam (Yalamanchili): 
No development had happened since Chandrababu had come to power. Roads and drainage were in devastated stage. Promises like waiver of loans and job for every household had long 
been forgotten, criticised the villagers of Sekulapalem of Visakhapatnam district. Exclaiming that Babu's Government spoke but never acted, they revealed their problems to convener of Yalamanchili constituency, Pragada nageswara Rao, as part of Gadapagadapaku YSR Congres programme. Speaking on this occasion, Pragada commented that every family was facing problems due to Babu's deception. He stated that people were ready to teach Babu a lesson.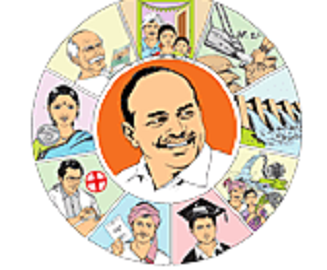 Tribal people reveal their problems
Visakhapatnam (Araku):
 Gadapagadapaku YSR Congress programme was conducted at Seethagunta, Musidiputtu and other villages of Pedabayalu mandal. by Araku constituency's coordinator Aruna Kumari, official spokesperson Setty Appalu and other leaders. They learnt about people's problems on this occasion, as they complained about their their DWCRA loans not being waived and not being able to find drinking water. The tribal people offered a score of zero for Babu in Praja ballot. On the other hand, at the agency area of Addumanda village of Hukumpet mandal in Araku Valley, they distributed rice and dal to the victims of diarrhoea.