YS Jagan's Tour In Guntur District

YS Jagan warmly welcome at Gannavaram
Solidarity to the strike of veterinary students
The people's leader to console the familes of the labourers
Guntur: The leader of opposition and YSRCP president YS Jagan reached Pedagottipadu village of Prathipadu mandal in Guntur district as part of his tour in the district. He will console the seven bereaved families of the victims of recent construction site accident. Later he will comfort the labourers who had been injured in the accident and being treated in the Government Hospital of Guntur.
As YS Jagan reached Gannavaram airport, he was warmly welcome by the party cadre and followers. Later he travelled by road to Guntur district.
As part of his tour in Guntur district, YS Jagan visited the camp of the veterinary students who had launched a protest with just demands and extended his support to them. The students are demanding for conversion of mobile cattle centres as veterinary hospitals and for doing appointments on permanent basis rather than contract basis.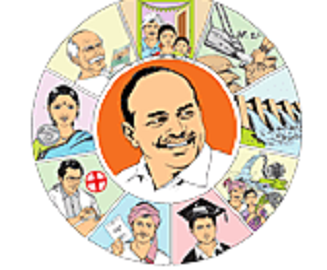 YS Jagan spoke to the students on this occasion. He stated that he was against the contract hiring system proposed to be followed in Chandranna Pasu Sanchara Pathakam and demanded that appointment was done on a permanent basis. He described the students' demands as being just. He suggested that pressure was brought on Chandrababu for cancellation of GO 97. He added that YSRCP Government that would soon be formed would stay supportive of them, even if the present Chandrababu's Government continued to be indifferent.