Take the party to door-step of people

Hyderabad, Nov 18,
2013: Calling upon the party cadres to take steps to ensure all eligible persons
above the age of 18 are enrolled as voters, YSR Congress party on Monday directed
the activists to strengthen the Samaikyandhra agitation for keeping the state unified.
Delivering his key-note
address at the extended meeting of the party here, party Chief Sri Y.S. Jagan
Mohan Reddy said party leaders and activists should take steps to take the
party to the door-steps of the people.
"You should strive to
strengthening the party at the grass root level by making yourself accessible to
the people and concentrating on finding solutions to solve their issues," he
told them, adding that there is a need to take the party much closer to the people
at the grass root level. 
There is also a need
to inform the people that YSR Congress Party will implement all YSR welfare
schemes after coming to power, Sri Jagan Mohan Reddy suggested.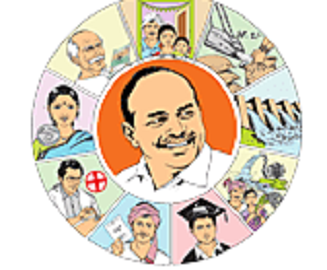 He pointed out steps
must be taken by all party leaders to ensure that all eligible voters, who are
above 18, are enrolled as voters. "This is a serious issue as elections are
around the corner and you must work hard in this respect," Sri Jagan Mohan
Reddy told the party leaders.
Members of the
Central Governing Council and Political Affairs Committee, MPs, MLAs, MLCs,
former MLAs, former MLCs, observers and coordinators in Parliamentary
constituencies, coordinators in assembly constituencies, district unit
conveners, official spokespersons, coordinators of affiliated  units and regional coordinators, besides
party honourary president Smt. Y.S. Vijayamma attended the meeting.