SC defers Jagan bail plea to Oct 5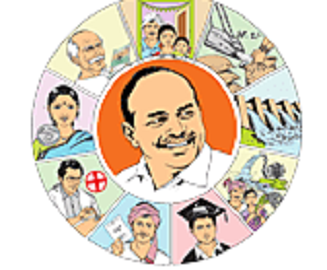 The Supreme Court today adjourned to Oct 5 its decision on the bail petition of  YSR Congress partchief YS. Jaganmohan Reddy.
When the bail petition came up for hearing before the division bench consisting of Justices Aftab Alam and R.P.Desai, CBI counsels Monan Parasaran and Ashok Bhan sought more time to submit effective arguments in view of the fact they are new to the case. The court accepted the plea and adjourned the case for further hearing till next Friday.
On behalf of Jagan, veteran lawyers Gopal Subrahmanyam and Viswanatham submitted their arguments saying the objections of the CBI that Jagan would influence the witnesses are baseless. "The CBI has already recorded statements of several witnesses and there is no ground to say that he would influence witnesses if released on bail," said Gopala Subrahmanyam.
Earlier, CBI counsel objected to granting of bail on the grounds Jagan would influence the witnesses in his favour.
Party hopeful of bail for Jagan on Oct 5
Reacting to the Supreme Court decision to defer the hearing on Jagan's bail petition to Oct 5, YSR Congress party spokesman Ambati Rambabu said today the party is hopeful of Jagan getting bail on the next hearing.
Speaking at the party headquarters in Hyderabad soon after the apex court's decision, Rambabu hoped Jagan would get bail next Friday. "I hope there would be arguments during the next hearing and the Court will grant bail to Jagan," he said.
Prayers across the state
Ahead of Supreme Court decision on the bail petition of YSR Congress party chief Y S. Jaganmohan Reddy, rank and file of the party conducted prayers, homams, padayatras across the state seeking bail for him.
In Anantapuram, thousands of YSR Congress activists staged a rally in the town before offering all-religious prayers for the release of Jagan from jail. Speaking on the occasion, party MLA Gurnadha Reddy said the arrest of Jagan was the result of a conspiracy between Congress and TDP.
At the famed Kanipakam Vinayaka temple in Chittor district, leaders of the YSRCP youth wing offered conducted special pujas and offered Porlu Dandalu around the temple.
Special pujas and prayers were offered by the party rank and file in several towns across the state including Visakhapatnam, Nellore, Tirupati, Vijayawada, Guntur, Ongole and Srikakulam.
(Updated on Sept 28, 2012)